A new patio is one of our favorite things to design and install for our Johns Creek neighbors. It's super functional, beautiful, and comes with nearly endless possibilities! In fact, all the style choices available for your patio might be a bit overwhelming! Here are some ideas to help you narrow your focus and decide what type of patio will work best for you.
Design the Base
At Stoeckig Landscape Group, we always recommend starting from the ground up! The base of your paver patio comes first, and this means the ground underneath is important. Most paver patios work best by the back door as an extension of your living room or dining room.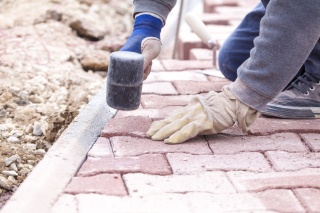 If you have a large property, you may also want a separate patio away from the house, say in a more secluded corner of the yard. The landscape of the yard is important. You need to start with level ground and then decide how much you want the patio to be raised off the ground, if at all.
Big and Small
The size and shape depends on your personal preference as well as what the landscape allows. If you want plenty of grass for kids or pets to play on, then the patio should be a more minimal feature in the yard. If you prefer your yard for entertaining, eating, and sitting, then you may want the patio to be the largest, main feature of the yard.
Personalize Your Patio
Gone are the days when your only choice was a simple square patio! You can choose any shape of patio designs from circular to octagonal to an amorphous, rounded shape. Then, choose the paver style based on the size and shape of your patio. For example, if you choose a circular patio, you'll want pavers placed in a design that start from the middle and move outward, accentuating the circle. Your patio installation can reflect the shape and features of the patio in hundreds of ways.
For Your Lifestyle
One of the most enjoyable parts of seeing your paver patio come together is adding the accessories. Consider adding features that you would love and use, such as a fire pit. A railing around the border of the patio can be an eye-pleaser as well as a convenient place to sit. If your yard is sloped, you may want steps leading to and from the patio to the rest of the yard. You can even add a water feature! There are so many possibilities to make the patio your own.