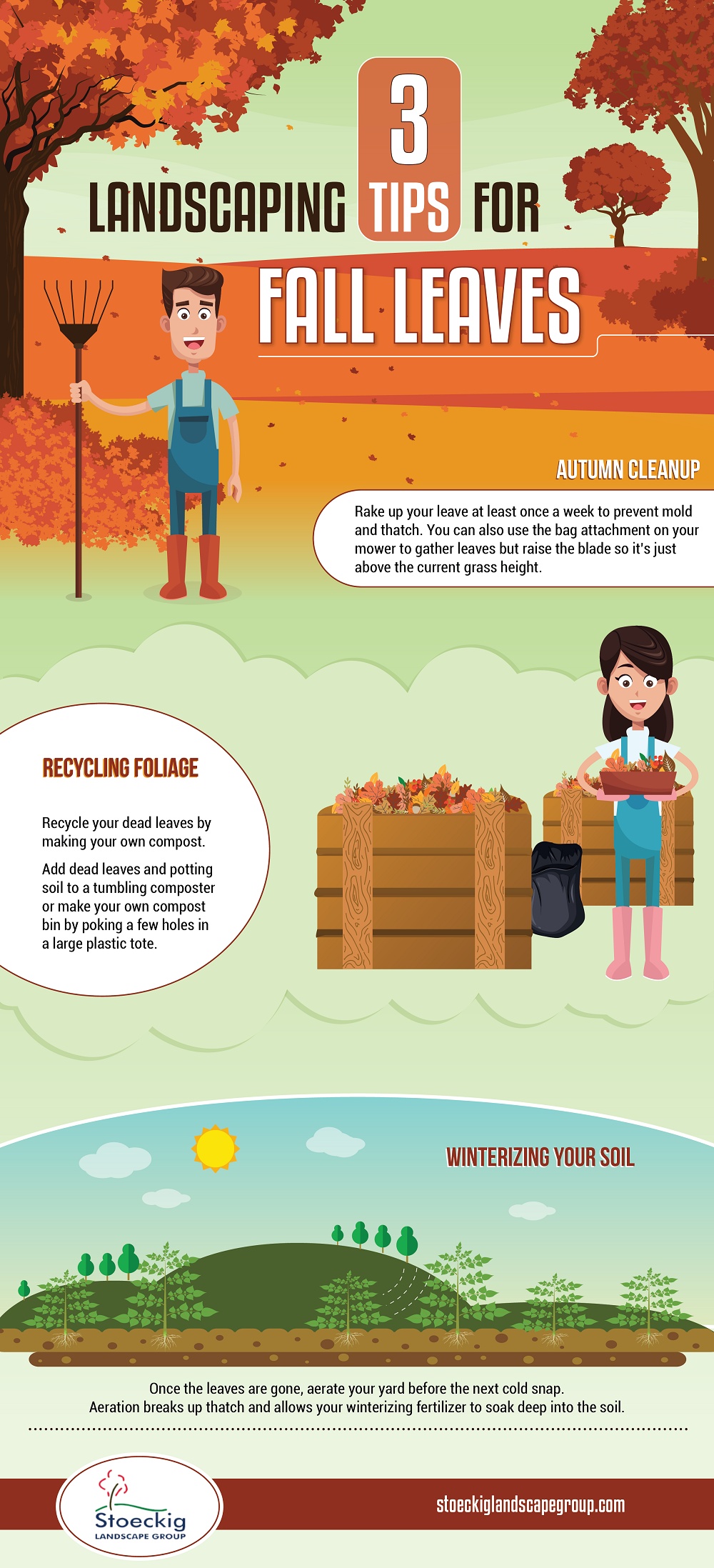 It's that time of year again. Time for pumpkin spice lattes, sweater vests, and that beautiful autumn foliage. Enjoy the turning of the leaves while it lasts because when it's over, it's time to break out the rakes. It may not be your favorite chore but raking your leaves is an essential part of fall lawn maintenance. In addition to the natural benefits you gain from recycling your dead leaves, you'll also be protecting your yard from developing thatch and mold.
While some consider it a chore, raking your leaves can be fun for the family if you get the kids involved. As a team, the task will go much faster, and when you're done, let the kids indulge in a little fun falling into the leaf piles before you dispose of them. If you are looking for a shortcut to removing leaves in your yard, break out your lawn mower for one last job before you put it away in winter storage. Set you're the height of the mower just above the current grass height, so you don't accidentally trim the grass any lower than needed. Use a bag attachment to collect all of the leaves as you mow. Do this in the middle of the day when the leaves have lost their dew and remember to clean out your mower before you put it away for the winter.
Once you've collected your fallen leaves, what do you do with them? You could bag them up for the trash man, but this is generally considered wasteful. It's also not a good idea to toss them in the empty lot behind your house, because in the summertime, this could become a fire hazard. Some cities do offer recycling programs for yard waste like fallen branches, used mulch, and dead leaves. Once collected, the natural waste is usually turned into compost. If you have a green thumb, you can make your own compost for next spring by tossing your dead leaves into a compost bin. You can find specially made compost bins with handles for rotating the compost, or you can make one yourself out of a large plastic tote. Add your leaves to the tote with a bag of potting soil. Punch a few holes in sides and the lid of the tote to allow for drainage and air flow. Every few weeks, use your shovel to break up the mixture, and come next spring, you'll have a nutrient-rich mixture for your flowerbeds.
Removing fallen leaves from your yard will help you prepare your yard for winter. Leaving the leaves to decay on the lawn doesn't help feed your grass; it actually contributes to a condition called thatch. Thatch is a barrier made of dead foliage and grass that blankets the ground, choking out new growth in the spring. Aerating, or spiking, your yard in the fall after you've cleared away the leaves will help reduce thatch and give new seeds the chance to take root in the spring. This is also a good time of year to have your soil tested. Fertilize according to your test results, adding essential nutrients that will preserve your lawn until warm weather returns.
For over 15 years, the professionals at the Stoeckig Landscape Group have been helping homeowners and businesses create beautiful yards and landscapes in Georgia. We value our customers, and they value us. We get a large portion of our business from previous customers telling others about our quality landscaping. Prepare your yard for winter and guarantee healthy growth in the spring with these autumn maintenance tips from Stoeckig Landscape Group. If you'd like to talk about options for your yard, give us a call or visit our website at stoeckiglandscapegroup.com.