There are some landscape design features that truly stand out among the rest. There's no doubt that the use of flagstone is one of them. When the time comes to spice up your yard or patio, you can't go wrong with flagstone. Flagstone is a type of sedimentary rock that is usually sold as a flat stone with various rectangular or square-like shapes. The ranging sizes and shapes of flagstone give it a rustic and natural look that landscape designers love. The best part about flagstone is that you can do just about anything with it. Not sure what direction you'd like to go with your stone landscaping in Dacula? Here are a few creative ideas to help you discover the best use for it in your yard.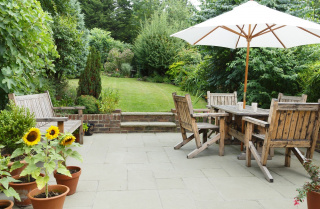 1. Flagstone Patio
If you have a yard with a lot of empty space, it's a great blank slate for flagstone design. Large blank yards with a lot of sod and not much of anything else are perfect for flagstone patios. Patios are great for those who are interested in creating a lounge or dining area to utilize this summer. You can arrange the flagstone to create a patio in whatever shape you wish. Just be sure to speak with a landscaping professional about using the right type of flagstone that is specifically meant for patios.
2. Flagstone Walkway or Path
You can also use flagstone to create walkways or paths around your yard. Flagstone pathways are great for connecting outdoor areas or creating a dreamy walkway through a garden. You can lay the flagstone is many different ways to give it various looks. You can lay each stone inches apart separated by bright green sod outlining each step. You can also lay the flagstone tightly connected together to create a more solid looking path. Both are classic designs that will invite your guests to wander through a beautiful landscape.
3. Flagstone Fire Pit
Flagstones are a very popular element for building outdoor fire pits. Regardless if you're looking for a small fire pit for two or a huge circular fire pit to warm up a big party, flagstone is the way to go. Flagstone fire pits add an elegant look to any outdoor space. The rugged and rustic features of the rock give it a natural yet structured look. If you're interested in doing something simple to raise your property value, building a flagstone patio and fire pit is the way to go.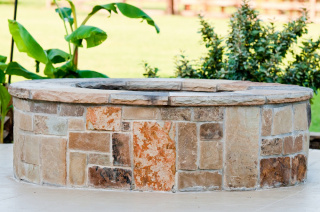 4. Flagstone Seating
For those who want to get really creative, consider using flagstone to build benches or sitting areas. Imagine a beautiful flagstone pathway that leads to the perfect place to sit down in your garden or meditation area. You can even build a flagstone bench that surrounds your fire pit. There are endless ways to use flagstone to provide comfortable seating. However, if you've never purchased or worked with flagstone before, it's a good idea to speak with a landscaping professional. The experts over at Stoeckig Landscape Group are ready and willing to assist you with your landscape design ideas! They also know the best ways to purchase the materials you need for your project. Give them a call today to learn more about how you can give your outdoor space a stellar makeover!