Hardscapes are much more than just a driveway or a sidewalk to your front door. Hardscapes are unique design elements that can take any landscape from average to wow. These five ideas will help you upgrade your property whether you choose to do one or all five!
Patios
It seems obvious, but the most sought-after hardscape (after the obligatory driveway and sidewalk) is a backyard patio. Just because they're so common doesn't mean patios have to all look the same. In fact, our Alpharetta experts have created unique patio designs for each and every job. No two are ever alike. You can choose the shape, size, layout, and placement of your beautiful, backyard hardscape patio so that it is perfect for your house. Even if you like the look and color of the stones that make up your neighbor's patio, you can still choose a different overall shape and a different layout of the stones so that it creates a different pattern. Our experts are excited for each new hardscape patio design we undertake.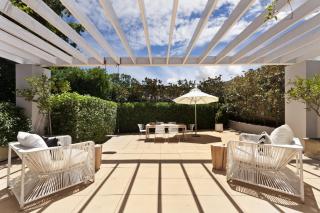 Fire Pit
Another one of the most popular hardscape designs for summer is a fire pit. A fire pit in the back yard is the perfect place to congregate with your family, with dinner guests, or just by yourself for a relaxing evening as you watch the sun set. You can customize the fire pit any way you like:
Dug into the ground
Elevated above ground
Inserted into a large patio
Free-standing and portable fire pit that matches an existing hardscape
Shaped like a hearth or brick oven
Built with stained concrete, interlocking bricks, or other materials
Accessorized with a rotisserie, grill, roasting sticks, etc.
As you can see, there are nearly endless ways to design a fire pit. Whether you have a specific vision in mind or need inspiration, our design experts have plenty of patio design ideas.
Terraces and Rock Walls
Terraces and rock walls are a practical, as well as an aesthetic, feature. Many homeowners are required to utilize terraces if their yard is on a steep plane or if they need to direct natural water drainage away from the house. In order for the hardscape to be effectual, you need to not just terrace the land, but to provide sturdy, functional rock walls to hold the soil and provide a foundation for other landscaping features.
You can choose rock walls constructed from concrete, brick, or stone, and stained in a number of different hues to match the natural landscape and your personal tastes. Rock and brick walls also come in a variety of shapes and sizes, whether you prefer a linear look or a varied and asymmetrical appearance.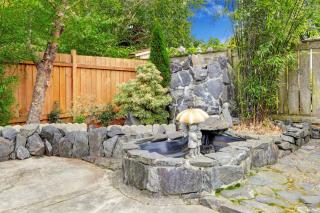 Fountains
Fountains are an amazing and beautiful feature for any yard. You can go as large or as small as your budget allows. Fountains can also follow a variety of formats, which you can customize with your designer. For example, you may prefer a fountain as a centerpiece to your yard, a circular structure that spouts water straight upward and lands in a pool. Another popular option is to craft a manmade fountain that is made to mimic the look of a natural stream flowing over rocks. The water still recirculates in the same way, but with a different flow patterns and using a different foundation of rock and concrete.
Walkways
You will be amazed at how many different ways there are to build a walkway. Goodbye, evenly spaced grey concrete squares, hello to dyed and stamped, irregularly cut stones! Walkways are no longer just for the front entrance either. You can choose to have pathways leading around the sides of your house, to the back patio, or even just meandering along the perimeter of your back yard. You can also choose to have perfectly interlocking stones making a continuous path, or slightly separated step stones that allow grass to grow in between. Just call us for help designing, building, and installing!