Summer days in Georgia bring plenty of sunshine and high temperatures. Even with a layer of sunscreen, the summer heat can be too much to bear. Is there a way to make the sun and heat tolerable in your backyard? You may be surprised at the difference Suwanee, GA, landscape designers can make. Consider these 5 landscaping ideas to make your backyard a little more pleasant this summer.
Putting Up Structures
You can add a few structures to your yard to give you some much-needed shade. Put a pergola over a walkway or a seating area. Pillars support a crossbeam of an open lattice. You can hang ivy or flowers on the pergola. The pergola can lead to your garden or connect two pavilions. Other structures you can add to your landscape include a gazebo or a cabana.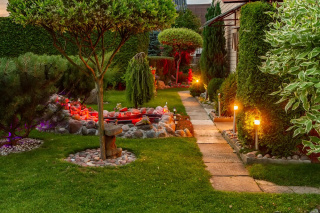 Adding coverings
Add a covering to your patio or deck to provide shade from the burning sun. A retractable canopy can make the setting more bearable for a cookout or other gathering with family and friends. Once the sun goes down, remove the covering. You can set up a shade sail over a sitting area or table and chairs. The shade sail, which resembles a ship's sail, is easy to assemble.
Adding Water Features
A swimming pool can cool you off. Even a small pool can bring welcome relief when the temperature rockets to 90 degrees or more. Ponds or waterfalls can also cool off an area. A fountain not only brings aesthetics to your backyard, but it can also have a cooling effect. You can install misters along the ground.
Shading the Sun
The glare of the sun at certain times of the day can be blinding. Just as you use curtains, blinds, and shades to block the sun from glaring through your windows, you can add outdoor shades or drapes to porches, patios, pergolas, cabanas, and other structures. You can find shades or drapes in different colors and fabrics. Not only will you, your family, and your guests be more comfortable, but you can make the most of the opportunity by matching your colors and fabrics with your patio furniture. Choose a fabric that will hold up against the elements and won't fade in the sun.
Planting Trees
Tress can provide shade for your yard. Take into account how big the tree will get when you're planting. You don't want roots to grow under your home or your patio. You don't want branches to rub against your house, hang over your roof, or touch your power lines.
Here are some trees that will provide plenty of shade for your southern lawn: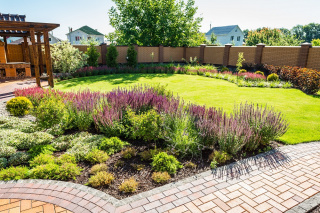 Oak: If you have enough space, this sturdy tree can tower over your property for years.
Tulip Poplar: This tree has large leaves with yellow fall color. It's great for yards of rural or estate homes and is often grown in clusters.
Japanese Zelkova: This shade tree has orange in its bark and leaves with colors ranging from yellow to reddish-purple.
Chinese Elm: This tree grows to 40 to 50 feet and is resistant to Dutch Elm Disease.
Gingko Tree: This tree, native to China, is one of the oldest living plants. It has developed a resistance to droughts, various insects, and viruses.
Retaining Walls
This feature marries good landscaping and good hardscaping perfectly. Retaining walls are short walls that separate 2 levels of landscaping. You may frequently see retaining walls around large trees. They protect the soil around delicate trees and flower beds while also inviting you to come and sit beside these gorgeous plants. Creative uses of retaining walls include creating separation between 2 distinct areas in a yard or creating a harmonious area around split-level homes or houses on a sharp incline.
If you want to learn more about how some of the above features can beautify your property, or if you just want ideas to transform your yard from forgettable to unique, contact experts in hardscaping and landscaping in Alpharetta. With their expertise, you can bring out the best natural qualities in your yard and frame your house impressively.