Creating a beautiful landscape on your property is perhaps one of the greatest ways to relax and kick back. A serene atmosphere is a great way to take away your stresses for a few hours. In order to have the look you're dreaming of, read below for 5 of the most popular hardscape designs before hiring your landscape contractors in Alpharetta. This way you will be able to have an idea of what you'd like on your land before contacting your contractor. 
Accent the Style of Your Home
Take a good look at the architecture of your home and determine its style. If it's a more contemporary home, creating more contemporary hardscape designs will continue the look of your home. If you were to create a more cottage-like feel in the yard when the home is more contemporary, it could look wrong and potentially create an awkward flow.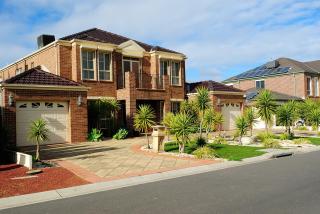 Imagination
Think of the most relaxing place you've ever been, whether that was a spa, the Bahamas, or an all-inclusive resort. Aim to create that same kind of relaxing vibe in your front yard by fomenting a comforting atmosphere every time you step outside. If you want to re-create a resort, including a pool with tons of greenery and an outdoor pavilion would be a great place to start. Have some fun with your imagination. Create unique looking designs that can bring out your personality.
Work with Nature
Take a look at your surroundings. Are there a lot of trees? What about a patio? work with what you have, find a main point and accentuate it with the look you're going for. Bringing the natural look alive and giving it a makeover will give you the greatest turnout. Competing with the surroundings will only create the opposite effect and could end up looking forced, which runs counter to the feeling you're trying to evoke. Be sure that the plans you choose for each space will survive there. It has to be more than just the look, but it also has to be in an area that it will thrive and survive through various weather conditions.
Give Depth
Find a way to create different levels by making lower and higher areas with stone or tile. Along with this, vary the flooring materials. Have grass in one area, stone in another and tile in another. Spice it up and make it look unique. Give it some flavor. Mix stonework to create customized designs and make it interesting and fun to look at. 
One-of-a-Kind Touches
Find a few custom pieces to add to the area. From custom made patio tables, to beautifully lit torches. Find a few extra details that you'd like to make the focal point and have some customized furniture created for that specific purpose.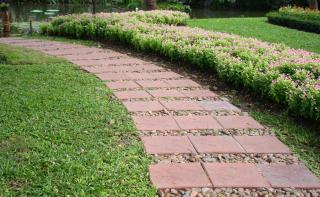 Think outside the box and use your imagination again by doing things like extending the living room into an outside patio. Create doors that slide open and bring the outside, inside. Find the touch that would create an atmosphere that you find relaxing and enjoyable. Add rugs to your outdoor furniture.
These 5 hardscape designs will inevitably help you to create the view you're looking for on your property. After creating an idea of the kind of space you would prefer, sharing them with your contractor will result in your ideas coming alive right before your eyes.