Are you ready to take your outdoor living space from ho-hum to the place you can't wait to come home to? Hardscaping is one of the best solutions for boring yards, both front and back. You can even use hardscaping techniques to improve the appearance of your driveway and walkways. We're excited to share 5 ways hardscaping in Johns Creek can add a whole new vibe to your yard.
Party on the Patio
The average patio is a concrete slab on the back of the house. Why not turn that plain patio into a place where you're proud to entertain family and friends? Using creative hardscaping techniques, you can have a variety of textures and colors for your patio. Create a warm, inviting environment with baked clay bricks or concrete pavers.
Consider gravel for the informal patio. Gravel is easy to install and won't cost a fortune. Bluestone, a dense, fine-grained sandstone, is a fantastic choice of material for patios. It's crack-resistant and keeps its color. If you're including steps, walls, or fireplaces in your patio scape, bluestone is a great choice.
Build a Deck
Like patios, decks provide space for outdoor entertaining. Who wouldn't enjoy sitting on the deck drinking that first morning coffee? One advantage of decks is that you get a room with a view. Since decks are raised off the ground, you get a better view of the rest of your yard. You can build your deck taller and create space underneath. What can you do with the space under the deck? What about a hot tub or play area for the kids? We vote for the hot tub! You can create an outdoor sanctuary with benches for relaxing, or add beauty with an arch or pergola. Create the ultimate escape with a gazebo right on the deck. The sky is the limit when you explore all the options for hardscape designs in Johns Creek.
Add a Hot Spot
Fireplaces and fire pits are a popular outdoor living trend. It's easy to build a warm and inviting spot where friends and family gather to visit and roast marshmallows. Fire features can set the mood for a variety of outdoor living experiences. Imagine cozying up with your amour and sharing the details of your day. Talk about romantic! Fire features can be made from a wide range of materials including:
Brick
River rock
Fieldstone
Limestone
Stacked stone
Go with a fireplace if you typically entertain small groups of friends. If you host larger crowds, a fire pit is an excellent, less expensive option.
Put Up Walls
Walls in outdoor spaces serve more than one purpose. If you enjoy privacy, build a stone wall. You can use walls as backdrops for garden beds. Walls are also often used to create seating areas. Add a splash of color with brightly patterned cushions or pillows. Of course, walls also have a practical use. If you need to keep soil contained, a retaining wall does the trick. If you're a creative type or know an artist, consider painting a mural on a concrete wall. Consult with a specialist in hardscape design in Johns Creek for more ideas on building outdoor walls.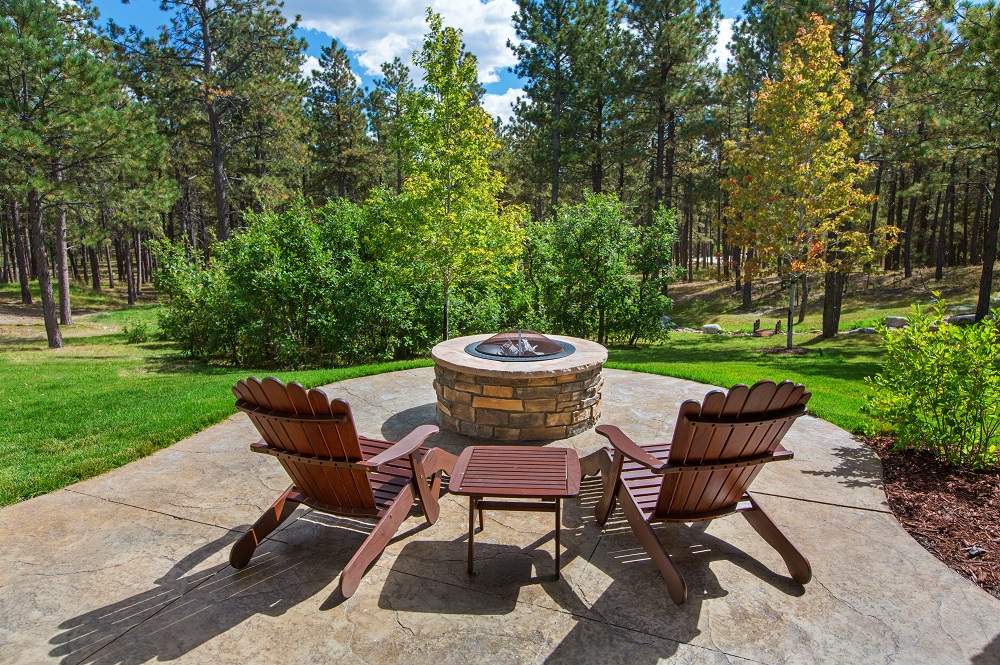 Create Walkways
Driveways and walkways tend to be downright dull, but they're the first thing visitors see when they arrive at your home. Driveways also bear the brunt of our coming and going and develop ugly cracks and holes. Hardscaping can be used to update your driveway from blah to beautiful with pavers, concrete, and a variety of stone options. While you're creating a welcoming new driveway, do the same with your walkways. Nothing says "welcome" like a beautiful pathway leading to your front door.
For more hardscaping ideas or if you're ready to start your project, contact Stoeckig Landscape Group. We're dedicated to helping you create the perfect outdoor space.