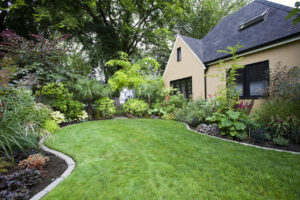 Landscaping has a major influence on the overall look and feel of your home. It not only enhances your home, but also helps to increase your property value. There are many landscape types to choose from. But how do you choose the best style for your home?
Here we'll show you 7 types of landscape styles to give you some inspiration and help you decide what will look best for your home.
English Garden
An English garden landscape style creates a very romantic and whimsical look. The rolling lawn and brightly colored perennials give this style its distinct look. This is a perfect choice if you're looking to add some charm to your landscape. This style also uses brick paths and water features along with florals and shrubbery.
Woodland Landscape
There is something magical about a woodland landscape. This style uses a variety of trees, shrubs, and moss to create a natural and serene setting. It's an amazing option if you're wanting to create a backyard retreat. It's also a great option if you're looking for a landscape that doesn't require a lot of maintenance.
Traditional Southern Garden
A traditional southern garden landscape is usually a very colorful and vibrant space. There are lots of different flowers and plants, as well as trees. You'll often see a white picket fence surrounding the property. This type of landscape is perfect for those who want a cheerful and welcoming outdoor space.
Japanese Garden
This is the optimal choice if you're looking for a zen oasis. Water, plants, and stone are three essential elements in a Japanese garden. The design principles of a Japanese garden include simplicity, asymmetry, and balance.
Mediterranean Garden
A Mediterranean garden is full of potted plants, herbs, and trees. Climbers and vines abound while gravel and paving replace lawns. Of all the types of landscape styles, this one fits best for those who want an easy-to-maintain landscape that's still full of life.
Eco-Friendly Landscape
An eco-friendly garden uses native plants, recycled materials, and sustainable practices. This type of landscaping is ideal for homeowners that are looking to reduce their impact on the environment. Eco-friendly gardens can be created using a variety of different materials, such as stone, wood, and concrete.
Modern Landscape
A modern landscape style is clean and minimalistic. This style uses geometric shapes and lines to create a sleek look. The plants and materials used in a modern landscape are often native to the area and require very low maintenance, so you can spend more time enjoying the landscape instead of constantly worrying about up-keep.
How to Choose the Best Types of Landscape for Your Home
When it comes to choosing a landscape style for your home, there are many different factors to consider. Here are some things to keep in mind:
Your climate

The budget you have available

Who will be using the yard

The size of your yard (don't be discouraged by small spaces)

Your personal style preferences

Maintenance needs
By considering these factors, you'll be sure to find the best landscape style for you! And with a little planning and creativity, you can create a beautiful landscape that will add value to your home and provide you with a space to enjoy for years to come.
How Stoeckig Group Can Help With Your Landscaping Needs
No matter what type of landscape style you're looking for, the experts at Stoeckig Group can help you create the perfect outdoor space for your home. We have a team of experienced professionals who can help you with all aspects of your landscaping, from design to installation and maintenance. Contact us to get started today.