Whether you're starting a whole new landscape plan or are looking to change up your current design, hardscape design in Cumming is a great way to add something special to your overall landscape. If you're new to hardscaping elements, you may be wondering what's included and how to make it work for functionality and beauty. Here's what you need to know.
What Hardscaping Is
 Hardscaping is the term used to describe any non-living elements that are part of the landscape design. These elements don't have to be purely functional, although many are functional and well as aesthetically pleasing.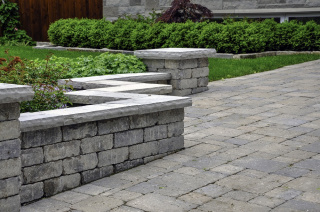 They're used to increase the practicality of specific areas of your landscape design and include options for establishing planting areas and other vegetative elements. Hardscaping is essential for establishing areas for grass, trees, shrubs, and flowers to grow, specifically if you have a certain design in mind for these elements. Without hardscaping, these elements would mix together and be difficult to distinguish.
Included Features 
The more functional features of hardscaping include things like walkways, patios, and even something as simple as the driveway. They also include retaining walls, raised flower beds, stairs, and built-in benches. More decorative features include statues, swimming pools, edible gardens, fire pits, and ponds, or other water features. Outdoor kitchens are also considered a hardscaping element; in fact, outdoor kitchens and outdoor living rooms are one of the latest trends in hardscaping. Other trends include fire features, geometric walkways, irrigation controlled via smart technology, and the use of sustainable construction products.
Making It Functional 
One reason hardscaping is becoming so popular is because of its functionality. People enjoy spending time with family or entertaining in outdoor spaces, so it makes sense to include these areas as part of an overall landscape design. It provides established areas for people to walk around and enjoy the living elements of your design as well as places to sit along paths and in congregating spaces. You can combine functionality and convenience by using retaining walls as seating areas. Strategic planning for functional purposes can significantly save on water costs, prevent erosion, and preserve the vegetation in your yard. But, this functionality is easy to translate into beauty as well.
Adding Beauty 
There are numerous options for increasing the aesthetic appeal of your yard with hardscape elements. You can choose from numerous types of gravel, concrete, pavers, and natural stone to add to your garden. Combining different materials will add texture and color like nothing else can. You can use hardscaping elements to highlight living elements in your yard and choose the perfect color of walkway material to pull a design together.
Retaining Walls
This feature marries good landscaping and good hardscaping perfectly. Retaining walls are short walls that separate 2 levels of landscaping. You may frequently see retaining walls around large trees.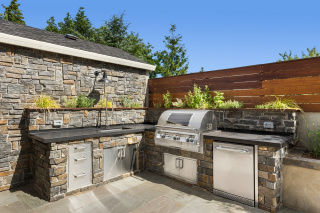 They protect the soil around delicate trees and flower beds while also inviting you to come and sit beside these gorgeous plants. Creative uses of retaining walls include creating separation between 2 distinct areas in a yard or creating a harmonious area around split-level homes or houses on a sharp incline.
If you want to learn more about how some of the above features can beautify your property, or if you just want ideas to transform your yard from forgettable to unique, contact experts in hardscaping and landscaping in Alpharetta. With their expertise, you can bring out the best natural qualities in your yard and frame your house impressively.