Hardscaping is the act of using hard, rough materials such as brick or stone to create beautiful designs around the exterior of a property. When it comes to hardscaping, there are endless possibilities! You can create foundations for outdoor dining, inviting walkways, water features, firepits, borders around flower beds, and much more. Materials that classify as hardscapes are basically elements that aren't living, which sets them apart from soft-scape materials, which are alive (plants, flowers, shrubs). There are a lot of reasons why homeowners love to create a hardscape in Johns Creek. Here are the top four benefits of hardscaping your backyard this summer!
1. Increase Your Property Value
It really doesn't matter if you're selling your property or not. Homeowners are always looking for new ways to increase the value of their homes. Hardscaping is one of those easy, inexpensive things homeowners can do to make their properties look amazing and increase their value. Hardscapes in the front or backyard can completely transform a home, but backyard hardscapes are always a real selling point. Backyard hardscapes bring beauty, function, and extra living space to any property.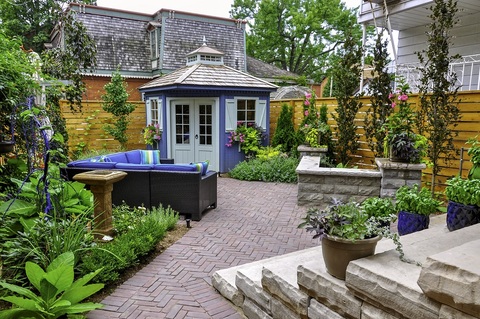 2. Summertime Entertainment
Summertime means more outdoor activities! To really enjoy the warmer weather, it's important to have a place to go outside to relax and unwind. However, a backyard with an empty lawn isn't exactly the most inviting place to spend summer afternoons. Thinking about hosting a BBQ this summer? If so, you'll need a place to cook up a delicious meal for friends and family. Patios for lounging and outdoor dining are essential for summertime fun. Thinking you'd prefer to host wine tastings around an outdoor water feature? Hardscaping your backyard is the way to go! Creating a hardscape design that caters to your lifestyle, interests, and hobbies is a great way to bring more entertainment into your backyard.
3. Low-Maintenance Features
One of the best reasons to include hardscape features in your backyard is the fact that it's so easy to maintain. With soft-scaping, while it can add a lot of beauty to a front or backyard, it can also be a lot of work to keep up. A hardscape is the ultimate low-maintenance feature! Because the elements used in hardscapes aren't living, you don't have to worry about watering, trimming, or spending money on expensive fertilizers. Hardscapes might need a pressure-cleaning or two throughout the year, but not much maintenance beyond that. Even
homeowners who travel during the summer still love hardscapes because they don't have to be there to maintain them. You don't have to set irrigation timers or worry about asking neighbors to take care of your plants. Everything stays beautiful, regardless if you're there or not.
4. Save On Water
Let's not forget that hardscapes are also environmentally friendly! Homeowners that aim for sustainable living love the idea of hardscaping. If you don't have an irrigation system or you don't like the idea of wasting water, designing stone landscaping in Johns Creek might be the perfect plan for your backyard. If you're ready to start your hardscaping project, contact the pros at Stoekig Landscaping Group. They can help you choose the right materials and design the perfect hardscape addition for your backyard. Give them a call today to get started on your summertime hardscape project!