Good home landscaping needs more than the obvious features like trees and flowers. Sure, a green lawn makes your home look pleasant, but hardscaping adds even more dimension to your yard. So, if you're looking for the best hardscape ideas in Dacula, look to natural stone for inspiration.
What is hardscaping? While landscaping refers to plant life in your yard, hardscape refers to the solid features that add structure, visual contrast, and practical benefits to your yard – features like retaining walls, fire pits, stairways, and walkways. Here are the top benefits of selecting to style your home landscape with genuine stone hardscaping.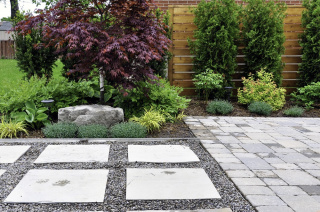 Strength
Stone and strength are synonymous. Natural stones of several varieties are durable enough to handle extreme weight, temperature variations, and elemental problems like heavy rainfall or ice. While concrete, wood, or plastic-based hardscape features can degrade due to any of the above, natural stone hardscape lasts longer.
Versatility
Natural stone is one of the most versatile building materials. Think of it as the original precursor to versatile concrete, only with more genuine and attractive character. Natural stone is stable enough to serve as a patio floor or walkway, heavy enough to act as a retaining wall around trees and flower beds, and heat-resistant enough to contain a fire pit.
So why does this make stone a superior hardscaping material? All of your materials will match! Select beautiful limestone, flagstone, slate, or other natural stones to create a uniform look throughout your lawn and garden. Natural stone occurs in many different colors and attractive patterns so you can find an appropriate fit.
Everyday Use
Stone can withstand everyday use. Even better, stone is safe for you. While flat concrete can be uneven, artificial gravel can be slippery, and wood can be unstable, genuine stone is safe for foot traffic. You can even build a natural stone driveway. Stone can handle the weight of a vehicle or trailer without damaging vulnerable tires. Natural stone is also ideal for hardscape design because it won't get slippery when wet!
Build a charming outdoor patio, pool deck, and garden walkway all in natural stone, and you can walk with ease. You'll feel comfortable entertaining your family and friends in your yard as well.
Additional Features
Natural stone is the ideal substance for building features that other hardscape materials just can't handle. For example, you can build an outdoor pond with natural stones. The natural aesthetic and water-resistant benefits mean your pond will look calming and charming for a long time. Try building an outdoor fire pit or pool cabana, too. Natural stone won't get too hot or too cold so you can entertain with ease. And whether you want a natural, rustic look or a more modern and minimal one, natural stone is the ideal material.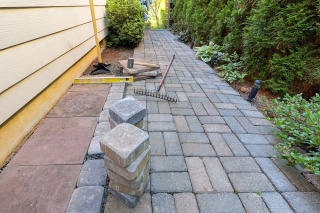 You can't get natural stone just anywhere, though. Many hardware and home supply stores are only stocked with artificial products like pavers and concrete gravel. Call Stoeckig Landscape Group to get natural stone hardscaping and experienced installation work. We can design and build you a patio hardscape in Dacula along with other features that will make your lawn and garden feel like home.