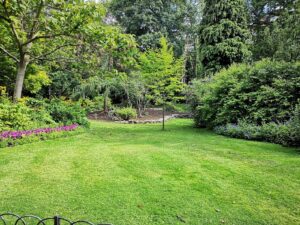 Perfectly manicured lawns are not a natural phenomenon. If you are looking for that classic looking backyard with green grass throughout, laying sod is probably the best bet. The key with laying sod not only comes from knowing how to do it but when. Laying sod at optimal times during the year is what ensures a healthy and beautiful lawn that you can enjoy in the future.
How to Pick Your Season
Most people will tell you that the best time to lay sod is mid-fall just as the weather is transitioning from warm to cold. Some cool-season grasses can be laid out as late as Thanksgiving. However, for most, you'll want to make sure you are laying out the grass before the temperatures get below freezing. Spring comes in at a close second for best time to lay sod especially because it is usually cool and rainy for most of the season.
You'll also want to vary your yardwork based on the region you live in. Those that are further north can more easily take their pick of cooler seasons while those in the South should stick with springtime planting.
How to Prep Your Yard
While the sod comes rolled up ready to go, your yard will need some prep work before it can handle the sod. For one, you will want to level out your land as much as you are able. While doing so, also remove any of the rocks, debris, and weeds. You will want a clean slate to work with so clear out anything in the dirt that you could see causing a problem. Next, aerate your soil so that it is not too compact and add the appropriate additions if there are any deficiencies like nitrogen or trace minerals. A lawn expert can help you test out what your yard specifically needs to be in good shape.
Additional tips include watering the area the day before installation, and schedule your sod delivery for the morning of installation so it doesn't sit compacted for days.
How to Lay Sod
Laying sod is ideal for days that have a slight overcast. When the day arrives, start by picking the side of your yard that has the longest straight edge and unroll your first roll alongside that. While you are working through your first roll also be sure to rake off footprints and smooth out any air pockets.
The next rows of sod will need to be staggered. Cut your next rolls in half and place them down on the yard as if you are laying brick. Make sure the seams of each section connect to one another and there are no gaps but also no overlaps.
Once your new lawn is fully in place, you can water the area to help the soil settle in. For the first week you will want to water every morning and you can gradually taper off the schedule as time passes. Keep foot traffic to a minimum to give the sod time to set.
Finally, enjoy your beautiful new lawn!
Contact Us
Stoeckig Landscape Group is your preferred lawn company in Dacula, GA. Learn more by contacting our office at 770-831-1790!