The enclosed patio is a popular design trend, and for good reason. If you live in a climate with unpredictable weather or significant insect presence during certain seasons, an outdoor patio may not be ideal for your home. An enclosed patio can provide all the benefits of an outdoor patio, but with a little extra comfort.
There are so many enclosed patio design ideas out there, and we found five worth looking into. Do you need some custom enclosed patio design ideas to get inspired by for your next project? Take a look at some great ideas we found!
Covered Patio with Gable Roof
The first of our enclosed patios designs ideas is the covered patio with a gable roof. This design is excellent if you'd like your enclosed patio to blend into the outer design of your home. It's not only spacious and looks like it's part of your home, but you get to feel like you're really outside.
Lattice Enclosed Patio
Latticework screens are a classic design trend that can give your patio a rustic appearance. This design idea is ideal for those who want to enjoy some of the benefits of an enclosed patio but don't want to completely close the space off to the outside world. Incorporate a garden or vining plants to really pull this look together.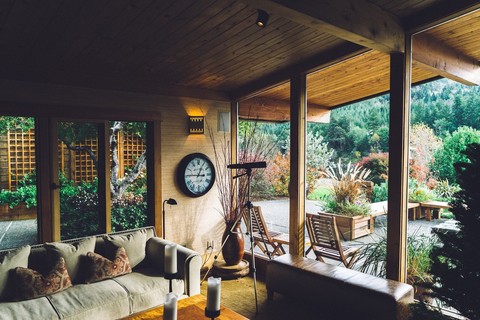 Fence Enclosure Patio
Like the lattice enclosed patio, this design idea is great for homeowners who want to enjoy a semi-enclosed patio but don't want to be completely closed off to nature. This rustic yet modern design idea involves using slate wood fencing to close off certain areas of the patio while leaving other areas open to the backyard. The beauty of this design idea is that you can customize it as you wish and opt for wooden slates, metal bars, or picket fencing. It all comes down to the aesthetic you'd like to go with.
The Three-Season Enclosed Patio
This design idea involves turning each side of your patio into a window. Depending on the time of year, you can open the windows, keep them closed, or open the screens to provide an indoor or outdoor feel to your patio.
The Floral Screened Patio
Similar to the three-season enclosed patio, this design idea involves turning the walls of your patio into screens. However, incorporating gardens around the outside of the screens provides a more nature-themed vibe to your patio. During the summer, you can enjoy the sights and scents of fresh blooms while enjoying the comfort of an enclosed space.
Stoeckig Can Help Bring Your Enclosed Patio Idea to Life
Stoeckig landscape group is a leader in outdoor and patio renovation in Dacula, Georgia. Call us today to schedule an appointment and one of our talented outdoor designers can help you build the right enclosed patio design for your upcoming project.
How was our list of enclosed patio ideas? Tell us which one you'd like to try in the comments below!