Keeping your pavers clean and new may seem like an easy task. How hard can it be to simply keep debris off of them? In reality, pavers require a good bit of maintenance if you want them to continue to look new for years after you install them. They are exposed to the elements full time, and as a result, they accumulate dust, grime, and stains. They also must endure the wear and tear of constant use. Erosion from water and traffic can prematurely age your stone pavers and lead them to look ragged and unflattering to your overall landscape.
Though pavers are largely low maintenance, they do need a little attention periodically to remain in great shape. Fortunately, there are some routine maintenance tasks and installation tips that can help prolong the beauty of your paver patio. By following these few suggestions, you can keep your pavers in good shape both functionally and aesthetically.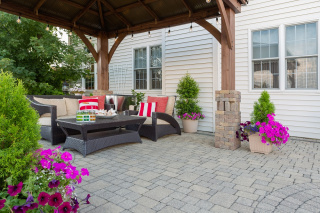 After all, if you are going to the effort to introduce the beauty that paver hardscaping can bring to your property, you should have a plan to maintain that new look for as long as possible. Read on to learn a few tips that can help you take better care of your paver hardscaping.
Sweep Routinely
This seems like a no-brainer, but many people think that because pavers are made of stone or concrete that they are impervious to debris that naturally comes to rest on them. That's not the case, as even debris as seemingly harmless as fallen leaves can leach tannic acids and other discoloring agents onto your pavers and staining them. Dirt, grime, and mud can also build up over time and cause discoloration, and in extreme cases, sediment from water run-off can even cover your pavers completely. That's why you should invest in a good broom or reliable leaf blower and sweep your pavers clean once a week at least.
Use Polymeric Sand
Another tip that pertains more to installation than regular maintenance involves the kind of sand you use between your pavers. If the pavers are set with sand, try using polymeric sand between the bricks to increase the durability and stability of your paver project. Polymeric sand is a kind of sand commonly used with pavers that hardens when it becomes wet. Not only does polymeric sand make for less shifting and rippling of the paver patio surface, but it also prevents the growth of weeds between the pavers. That will reduce your long-term maintenance and keep your patio intact for longer.
Wash Pavers Gently
For particularly troublesome accumulations of soil or debris, you can use a gentle stream of water to wash down your paver bricks. Alongside a paver cleaning solution consisting of soap or mild acid, washing can help you restore the original color and surface of your pavers in a short time. There is a caveat, however, as you must be careful not to spray jets of water into the spaces between the pavers. Doing so could wash out the sand and undermine your paver patio, especially if you use standard sand during installation. Another word of caution involves using a pressure washer to clean your pavers. Using a pressure washer may seem like a good idea, but it's not advisable unless your pavers are installed with mortar. The stream from a pressure washer can wash all of your sand out, leaving you with a crumbling patio.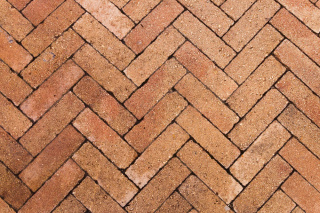 Use a Sealant
Another maintenance task that will help protect your pavers form the ravages of the elements is to use a sealer to coat the paver surfaces every few years. Doing so will seal out stains and keep moisture from permeating your bricks, which can lead to breakdowns over time. Regularly sealing will prolong the life of your paver patio and keeping it looking good in the process.
If you've made the effort to invest in pavers, make sure you undertake these few maintenance tasks periodically to keep your bricks in like-new condition. To learn more about maintaining your pavers in Alpharetta, visit Stoeckig Landscaping Group, the best stone pavers in Alpharetta.