A small yard can be an annoyance. You might look at a few dozen square feet of grass and think that it's hopeless. Why bother trying to decorate or landscape a yard that tiny?
But believe it or not, there's plenty that you can do with a small yard. You just have to be a little more imaginative. Sure, you might not have space for a swimming pool and cabana, or a veritable football field of open play space, but there are still many ways to take advantage of the yard that you have, and make it feel like your own private paradise.
The solution lies in hardscaping. What is hardscaping? While landscaping refers to the plant life that you design into a yard, including your lawn, flowers, and trees, hardscaping refers to most types of hard surfaces that you can design in your backyard.
These are some of the best examples of hardscape design and applications for your small yard. If you follow these tips, you can make even a tiny strip of grass feel like a gorgeous extension of your home.
Build Entertaining Space
Extend your backyard entertaining potential with a patio hardscape, like paver bricks, gravel, or finished concrete. Hardscaping includes hard surfaces that you can use to build an outdoor bar, dining room, or living room. All you need is the base to set your furniture on and some colorful, comfortable outdoor furniture. When the eye finds usable space rather than empty space, a yard will look and feel much larger than it actually is. For best results, use the same style and type of hardscape material for all flooring surfaces. This will create a stylish and uniform look.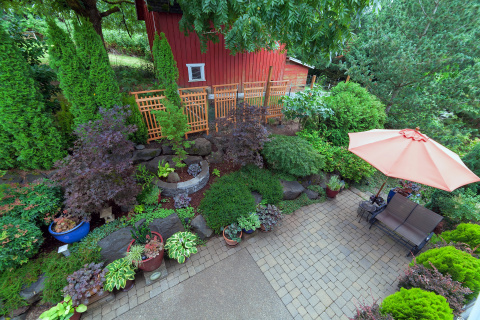 Open Up Your Fencing
Enclosed, traditional fences can make your yard feel tiny, as if the walls around your lawn are advancing toward the eye. There are many hardscape fence alternatives that can make your small yard look much larger, including an open fence with views beyond the property lines, a brick retaining wall around one edge of the property, or even a decorative stone wall, which will have enough texture to entertain the eye and enlarge the appearance of your yard. Stone and brick add more texture where there would otherwise be a flat, boring fence. An open fence also has this effect. Textured surfaces appear larger and more expansive than solid ones, likely because the eye can focus on shapes, rather than seeing the entire surface as a single, smaller shape.
Use Vertical Space
A small yard may not be rich with horizontal space, but when it comes to vertical space, the sky is the limit! Plant a vertical garden, build a raised patio at the furthest end of your yard, and plant flowers and small shrubs at the very top of a tall retaining wall. This 3rd dimension will give the impression that your backyard consists of several independent rooms for an enlarging effect that will make your backyard the envy of your friends and neighbors. Try enclosing patios with thin brick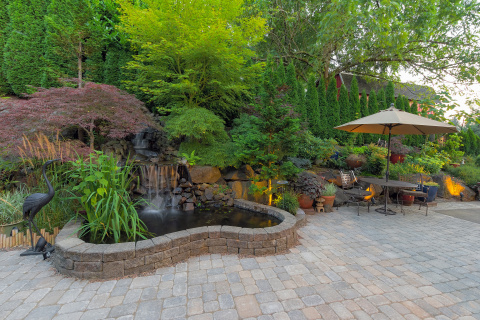 Are you sick of your plain, unimaginative backyard? If you want to make your backyard feel larger and more attractive than ever, don't just rely on landscaping. Find inspiration in the above hardscape ideas, then take them to a local hardscaping specialist, like Stoeckig Landscape Group. Stoeckig welcomes all kinds of unique hardscape ideas in Dacula and can install them with ease, so you absolutely love your new and improved yard.