Whether you like to cook out, enjoy lounging, swimming, or want your own convenient oasis, your backyard landscape can be a great job to tackle, but it's not always easy to know where to begin. The planning and details can take a lot of time, especially if you've never handled a landscaping project before. For help on how to design your backyard landscape, you can continue reading below, and soon you'll be on your way to having the backyard you always dreamed of enjoying.
Distinguish Between Needs and Wants
It can be tempting to shoot for the moon, but although such ideas can be enchanting in their own way, they're not necessarily realistic, especially on a budget. Be sure to itemize a list of what you'll need from your landscape, and what would simply be nice to have, resources permitting. This will help to narrow your options and choices, which will go a long way toward helping you to construct an initial layout. For instance, if shade trees are an essential element, you'll want to keep them on your list. However, if you can do without a frog pond, that might be something to skip for now.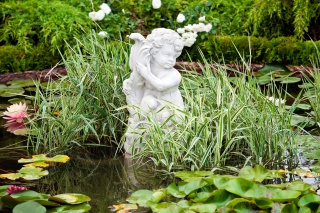 Location Matters
Remember to keep in mind the wind and sun. A patio on the east side of your home might get a lot of sun in the mornings, but it could be a nice place to sit out in the evenings, provided that it doesn't tend to get a lot of wind that would disrupt activities. A west side cookout spot might be a bad idea, since during the summer, it's going to be too hot to enjoy it. Of course, you do have the option to plant natural windbreaks, which could make things a bit more manageable.
Little Beginnings
Going step-by-step is usually the best idea, since this gives you a chance to live with the changes as they come, and it also leaves you with room for changes along the way. It's much easier to add to your yard than it is to take away, which makes starting off small a great idea. Your landscape design in Cumming, GA, can be a great way to add beauty, enjoyment, and value to your home, and getting started may be easier than you think.