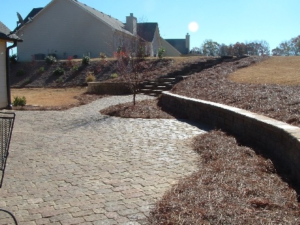 Our outdoor space has the potential for lots of great memories with family and friends if we design it right. Having an outdoor space that is unique and thoughtfully created gives you the environment to relax, entertain, and enjoy yourself. If you've been looking for ways to update your existing patio space or build a patio that will bring life to your landscape, we have all the ideas in our blog.
Extend Your Indoor Space
Your patio doesn't necessarily have to start and end at the backdoor. You can create a seamless experience by making your patio an extension of your indoor space. A great way to do this is to install sliding doors that can be opened up to increase the space you have to socialize and entertain. You can match the floors between the spaces to create a fluid area to dine and relax.
Outdoor Entertainment Area
Many people have spaces indoors to entertain guests, but you can easily move dinner parties and brunches outside if you create the right type of environment for your patio. Nowadays, you can construct kitchens outside with water resistant furniture, grills, a sink, and even a fire pit for winter days where you still want to enjoy being outside.
Build a Pergola
Pergolas can be created for low costs and can be set up within a few days. They add a dynamic element to your patio space, transforming it from flat concrete into a relaxing backyard oasis. Plant some trees around the area and let roses or grape vines climb the sides of the pergola to create a shaded spot to enjoy the outdoors even when it is hot and sunny out.
Zone Out Your Space
Rather than looking at your patio as a whole, try dividing up the space into various zones using different materials. This gives a clear distinction between each area of your patio. For example, you can use decking to indicate a socializing space for cooking food and eating, tile and comfier furniture to create an area to chill out, and then artificial turf for games.
Elevate Dining Spaces
A raised patio is a clever way to make your patio more interesting. If you set up your outdoor dining space here, it creates a focal point for any activities you do in your yard and functions as a main area for socializing. It also gives you a good vantage point to enjoy the rest of your backyard landscape from.
Contact Us
We are experts in hardscaping and landscaping design and offer insight and services to take your patio to the next level. Stoeckig Landscape Group is your partner Alpharetta, GA and the surrounding areas. Learn more by contacting our office at 770-831-1790!