When installing a new patio, it's important to plan carefully. Professional services by companies that offer patio installation in Cumming is always recommended. However, many handy homeowners want to save money by installing the patio themselves. If the DIY route is the route you go, make certain to plan accordingly. You need to make sure you have a firm base, choose long-lasting materials, plan for adequate drainage, and consider how you intend to use the patio.
Designing the Patio
Not so long ago, patios were simple concrete slabs that came off from the back of the house. You might have put your grill and a couple chairs on the patio and called it done.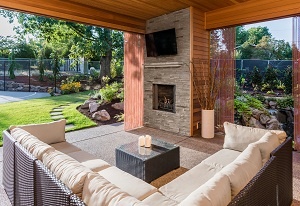 These days, outdoor living requires homeowners to think bigger and better. Today, patio designs range from the subdued to over-the-top luxury complete with state-of-the-art fire pits, brick ovens, television viewing areas, and more.
How do you plan to use your patio? This is the question you need to ask yourself before you dig or lay the first paver. If you don't have a clear idea of what you want, consult with a professional who offers patio design in Cumming. A poorly designed patio wastes money and isn't fun to use. Don't be that person.
Choosing the Materials
Another important part of patio installation in Cumming, GA, is choosing materials that look nice and hold up to wear and tear. Depending on the materials you use and the size of the patio, homeowners potentially invest thousands of dollars in outdoor living spaces. Because this area of the home expects to receive a lot of traffic it's a smart idea to invest in materials that hold up to heavy foot traffic and is weather-resistant.
What Shape Do You Want Your Patio?
With so many different types of materials available you have an endless number of styles to choose from. While some people prefer rectangular or square patios, others opt for circular patios or spaces with curved edging.
Prep the Space
Once you have your design and you have materials on hand, it's important to prep the space. This includes doing the following:
Establishing a slope
Adding a layer of crushed stone base to soil before concrete is poured for a slab
Use strings and pegs to create a working template for rectangle and square slabs
Use a garden hose for curved designs
Measure several times to make sure you get the dimensions right the first time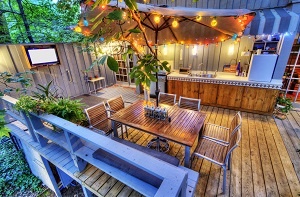 Does all of this sound like a little too much? If so, don't worry. Whether you want a slab patio or paver patio in Cumming, there are plenty of professional designers and hardscape laborers willing to help you out. Professional installation guarantees that the installation is done according to local codes. It also gives you peace of mind and warranty protection. Contact a local patio design company near you to learn more.