Living in Alpharetta, GA year-round has many perks. These perks include comfortable—if not slightly warm—temperatures all year, close access to shopping and entertainment areas, and beautiful sights wherever you look. With all of the lush landscaping surrounding you, you'll probably want to get some landscaping done yourself. So, what can you do to make your landscape design unique from everyone else's? You can incorporate water into your plans.
The Basics
There are a couple of water features that are fairly basic and common, but that doesn't mean they're any less breathtaking. You can have a small fountain or birdbath and still have them look unique in style with the specific stone sizes and shapes that you use. You can also have a waterfall feature leading into a pond. Add some fish and people are guaranteed to stop and admire the pond. These may be common features, but they're popular for a reason: they simply look great anywhere.
Combining Uses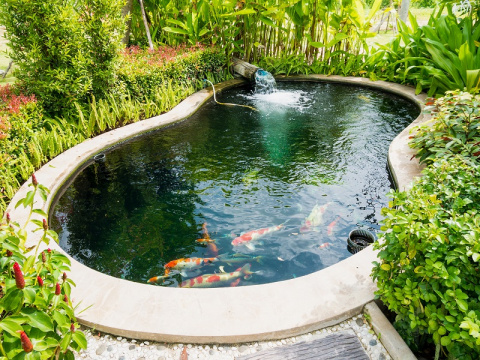 If you want a water feature and something functional, there are two things that you can do. You can build a fountain with raised edges to provide seating. There is no need for patio furniture when you can enjoy sitting by cool water on a warm Alpharetta evening. Now, if entertainment is your goal, you can't go wrong with a splash pad. Hours of fun can be had when running through the spitting fountains of water. If you prefer to have something that can be fun, but it also looks pleasing to the eye, why not go for a rain curtain? You can play when you want and enjoy the view when you prefer to relax.
Statues and Art Installments
If you're looking for a more unique way to incorporate water into your hardscaping plans, you can add large art pieces or statues. Many pieces of art can have water features added to them. If you've ever seen statues of animals spitting water into a pool of water, then you know this can be done. You can also use a large bowl or pot to fill water that spills into a pond or fountain.
Larger Features
Why not let your Alpharetta, GA, landscape designers go in a more extravagant direction? Go crazy and get something unique, such as a moat. Make it even more unique by adding plants into the moat around whatever structure you decide to surround. Or, you can have a designer make you a Zen garden that will give you the most comfortable place to retreat to. Adding water into a Zen garden area only improves the calm feelings you'll find there.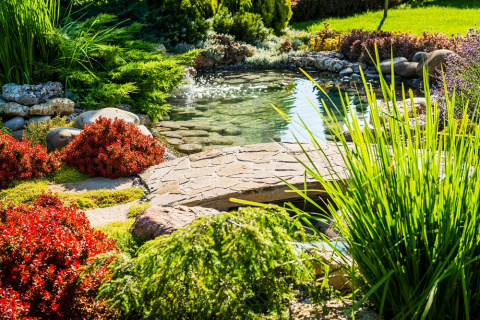 Setting a Mood
One of the things that all water features accomplish is setting a mood for the area. This is accomplished because water features tend to draw your eyes more than any other landscaping or hardscaping features. No matter which features you choose to add to your landscape design, you'll be setting a mood and drawing a good kind of attention to yourself.
Any features that you want to build will be eye-catching and set the exact mood that you want. Call Stoeckig Landscape Group at 770-831-1790 to see what limitless possibilities there are for your landscape and hardscape dreams.