Commonly referred to as sturdy patio bases, pavers are a versatile element for patio design in Cumming, GA, and other cities across the U.S. With pavers, you can create a stunning backyard or patio design in Cumming that matches the style of your home. Here are some tips to help you choose pavers to enhance the look and value of your home.
Creating Visual Interest
When choosing a paver patio and backyard design, the first step is to think about how you can create a visually interesting space.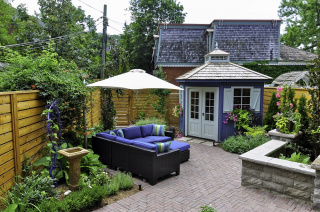 Keep in mind exterior and interior design elements of your home when shopping for pavers. Try out different designs with the pavers until you find one that you love. Make sure the design you choose matches the design of your home's architecture and flows with the interior design.
To create a unique textural look for your backyard or patio, use different paver designs and sizes. You could also mix pavers with other materials, like natural stone landscaping tiles or bricks to create interesting visuals in your outdoor space. Mixing materials can help you add personal touches, like adding your initials or those of a significant other to the design.  
Choosing Patterns
You can use patterned pavers to match the architecture of your home. Simple geometric patterns, sleek designs, or standard pavers with smooth textures enhance modern homes with minimalist features. If your home has Victorian-style architecture, you can echo the arches in the windows and doors with the patio paver designs you choose. Brick-shaped pavers will enhance the rectangular shapes of traditional colonial architecture.
Bolder options for backyard and patio pavers include hardscape patterns based on the shape. Laying pavers diagonally or horizontally will make narrower walkways appear wider. Making a grid with rectangular pavers will tighten and unify larger spaces. Create a more open-ended vibe by arranging pavers so the pattern will be almost invisible.  
Choosing Colors
Pavers come in numerous colors, which you can use to create an eye-catching look in your outdoor space. When choosing colors for your pavers, think about how the sun hits the design and for how long, because colors can change depending on how much sun exposure the pavers receive over time. Also keep in mind that brighter colors reflect light and make small spaces feel bigger, while darker colors absorb light and make larger spaces feel cozier.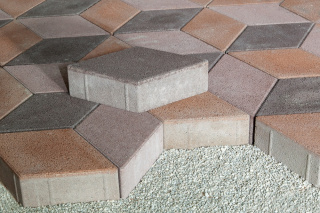 One way to add pops of color is to get pavers in multiple shades. Likewise, blending contrasting hues can instantly liven up your outdoor space. Just be sure to use shades that flows your home's color scheme. Plus, mixing and matching paver colors will provide balance to your space, and can camouflage minor stains that might occur over time.
Adding Borders
Pavers are often used to add borders (a.k.a., banding) that separate outdoor patios from surrounding landscape designs, like water gardens. Borders provide a defined edge that makes your outdoor patio feel like an individual room with invisible walls. You can create a single border, or add a second or third border using pavers in different colors or patterns. Use one shade lighter or darker to create a blended border, or choose contrasting colors to create a bolder design. As long as your design ties into the design of your home, the possibilities are endless.
Stoeckig Landscape Group has more ideas on matching patio pavers to your home. Email us at stoeckiglandscape@bellsouth.net or call us at 770-831-1790.