Build a better patio with concrete patio pavers: affordable and durable bricks that are styled to resemble real masonry or even natural stone. They can make any patio, walkway, and outdoor garden look better than ever, and create a space for you to take in the natural beauty.
But it's important to style your patio design–and all of your hardscape features–to match seamlessly with your landscape design. Basically, all hard features should match with your lawn and garden–all of which should also match with the architecture of your home. Here are some simple tips to help you craft the perfect patio design, and to choose pavers for your next patio installation that make for a harmonious and beautiful design.
Examine Your Home
Your home's architecture tells you most of the details that you need to know. What sort of style or time period does it reflect? Are you lucky enough to own a home that represents a distinct architectural style, like contemporary, minimalist or cottage? Style your home patio to blend seamlessly with the style period your home represents. If your home is modern, pavers with clean lines and angles are the way to go. If your home has a more craftsman, Tudor, or Georgian style, choose pavers that look like masonry, and install them in winding, elegant wave patterns.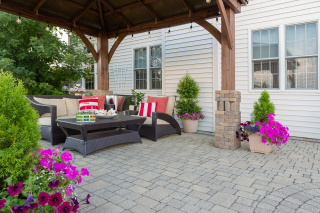 Set a Tone
Your home's architecture doesn't necessarily limit you, though. You can still create the right type of patio for your intended use. For example, do you want to build a patio that's perfect for entertaining guests? Large pavers arranged in an eye-catching pattern, like a herringbone design, create a sense of suave style and elongate the size of the patio, creating a perfect party venue. But if you want to create a more peaceful and private atmosphere, invest in pavers that resemble rough cobblestones or small bricks. Smaller details in earthy colors make a garden feel more authentic and serene.
The colors of your lawn, trees, flowers, shrubs, and home can also inform your choice of patio and walkway pavers. Think of your choice of pavers as the final slice in a color palette pie chart. Light blues and grays with bright whites in your yard will look excellent with sandy colored flagstone pavers. Is your home stately and provincial with deep green plants and white walls with dark accents? A touch of copper in your choice of pavers will add another level of warm color. You can search online for a color palette guide to help you explore color choices that match with the current surroundings. Just remember to balance warm and cool colors–hot reds and yellows with cool blues and green notes–as well as dark with bright.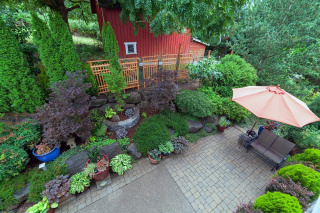 Seek a Professional
Thankfully, it's not completely your decision how to style your backyard–at least if you don't want it to be! What if you could explore design options with professional assistance? Professional landscape designers that also offer hardscape services, like patio paver installation, can help you devise a beautiful design scheme for your backyard, help you find the best areas to install patios and walkways, and let you decide which possible design scheme works best for your tastes.
Call Stoeckig Landscape Group today at 770-831-1790 to learn more about installing a beautiful paver patio in Johns Creek.