Nothing gives backyard landscaping a finished look more than a beautiful patio. Stepping outside your back door onto a stone paver patio is not only functional for keeping your feet clean from dirt and grass, but it can also look elegant. You can entertain family and friends in your backyard with pride.
Types of Patio Stone
There are many choices of stone used in creating a patio. A few types of stone used for designing a patio are flagstone, brick, and concrete. Each stone has its own unique composition, colors, and characteristics.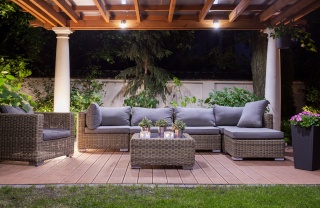 For instance, the flagstone quarried in different parts of the United States and Canada all have their own color traits, from grays to blues, tans and reds to golds, and more. Flagstone is mainly slate, limestone, and sandstone. It can be cut into squares or rectangles and placed in a varied pattern. The stones can also be left in irregular shapes and fit together in a pleasing random pattern. The colors of the stones vary because of natural formations, usually blue, brown, gray, and red.
Bricks made from clay are another option and come in a variety of colors: gray, tan, buff, pink, red, brown, green, and black. They can be smooth or uneven, or glazed with a glass-like coating. The fan design is very popular with people who favor brick pavers.
A patio poured with concrete is another option. Concrete has many benefits when compared to a wooden deck or other patio surfaces. It can be poured into any desired shape. The concrete can be stained or colored to reflect the type of house it adorns. A Spanish or Mediterranean style house might look good with amber concrete. A Southwest house with a tiled roof would be enhanced with a red or terra cotta concrete color. A modern house might keep the natural gray color of the concrete. The concrete can be stamped with a brick or other pattern before the cement is set. Concrete can also be finished and polished to shine like tile. Concrete is extremely durable and can also be refinished if needed.
More Patio Options
Patio stones can be fitted closely together or given enough space to allow for the growth of moss, hardy grass, baby tears, sedum, or certain varieties of thyme to fill the gaps. A patio can feature landscaping or a stone wall to set off the area. Depending on the size of the area, a statue, pond, or waterfall would be a beautiful addition to the patio, as well as large potted plants, etc. A brick fireplace, oven, or a fire pit could make even a large space seem cozy. A colorful lighted pathway, or outline of the patio, can be achieved with special LED pavers. You will find a custom-built patio design in Cumming, GA, that takes full advantage of the long summer season for entertaining and family fun. A patio is an essential part of outdoor living.