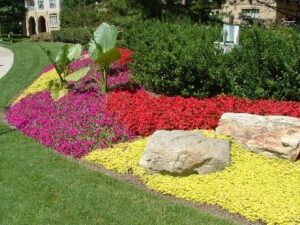 When creating a backyard, professionals will take into consideration the principles of design to come up with a space that is balanced and beautiful. The principles of design can easily be incorporated into plans to build a backyard that looks and feels great. We're here to explain some of these basic ideas to help you create the perfect look in your landscaping.
Unity
When a design is unified there are elements that must come together to create consistency within the scene. One way to build a unified look is to pick a theme to ground your design in for example a type of material, a color, or the type of plants. You could pick stone as the focus to tie all your other pieces together or incorporate the color blue throughout the space.
Balance
There are two types of balance- asymmetrical and symmetrical. They both work in unique ways to help your design stand out. You can balance both sides of your landscape by mirroring your design, for example, planting the same types of flowers of both sides of a pathway. You can also utilize asymmetrical balance by using different elements to create identical weights.
Repetition
Implementing familiar patterns or even repeating sequences into your landscape the right way can make your backyard look much more interesting. The trick is not to overdo it with the repetition because this can look tacky or boring. However, subtle hints of repetition that can go a long way.
Proportion
Proportion focuses on size and creating a balance of sizes that feels equal against the landscape. This means avoiding elements that are too small and can't fill a space or having one large centerpiece without anything else to balance it out. A pond with nothing surrounding it doesn't look as nice as a pond with rock structures, plenty of plants and a tree looks a lot better.
Color
Color is a fun design element to play with because there are so many options. Most landscapes have green as the foundation because of the lush green lawns that many yards will feature. However, you can weave in other colors to create a beautiful, lively scene. Even brown trunks on trees play a part in bringing a backyard to life.
Line
Our eyes are used to following some type of order when we scan a scene. Lines are used in all areas of landscape design whether we're creating garden beds or lining walkways. This element provides the illusion of distance which gives our backyard landscapes more depth regardless of the actual space we have to work with.
Contact Us
We are experts in landscaping design and offer insight and services to take your outdoor space to the next level. Stoeckig Landscape Group is your partner in Suwanee, GA and the surrounding areas. Learn more by contacting our office at 770-831-1790!