Gardens are meant for strolling, relaxing, and hosting company. No matter what types of plants or features you decide to include, placing all the elements together and creating movement between them can help you achieve a useful and beautiful space. Here are some tips and things to think about when you're planning your hardscape ideas in Cumming, including design features, what to include, and how to weave all the pieces of the garden puzzle together.
Figure Out Levels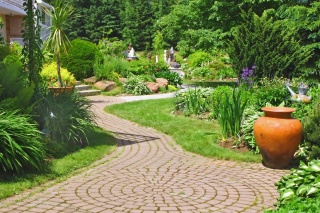 Before you put paths into your garden, you'll want to ensure that you have the leveling that you want and create an overall plan for the way that you'll move through it. If you have sloping, rocky areas, smoothing them out and creating terraces might be an integral part of getting the walkways set up. Going over the space with a landscaper can give you ideas about how to optimize the area for the best mix of flowerbeds, places to relax, and places where you can take a stroll.
Special Areas
Flat areas in your backyard can provide space for you to host parties or grill on your barbecue. It's a good idea to create walkways between your home and this entertaining spot using patio pavers in Cumming after you've leveled the area to make it suitable for tables and food-prep stations. Patios should be close enough to your house that you can easily move between the kitchen and the backyard area.
Plan the Flow
When you've designed the different spaces in your garden, it's time to think about how walkways, garden plots, and water elements will move between them. The ideal garden has a balance between each of these elements and provides space for resting or strolling. If you plan to include Cumming water gardens, space the ponds or streams in your design before you put down the initial plans for the paths between everything. This way, you'll know if you need bridges or how to lead from one focal point to the next.
Choose Your Materials
You can create walkways from ceramic tile, concrete, or stones. The ideal material will depend on what type of design you're going for. With water elements, putting in walkways made out of river rock can make the space look less contrived. You will also want to plan your hardscaping in Cumming with the weather in mind. Some materials are more resistant to moisture and cold, while others can become damaged and cracked after only a few seasons if they're not sealed properly. As professionals, we can recommend materials and designs to meet your needs.