There's no doubt that a well-maintained, manicured landscape can be a tremendous boon to your property value. That's one reason that many property owners partner with landscape contractors to create stunning outdoor masterpieces, as landscape improvements not only raise your property value but provide a source of enjoyment as well. While the summer may be the busiest season of the year for your landscape in terms of maintenance and upkeep, spring can also provide a flurry of landscape construction activity as the temperatures begin to warm. Being outdoors after the cold winter is rejuvenating, as homeowners seek to make those temperate spring months count when it comes to landscape construction. Fortunately, spring is the perfect time to take steps that will improve your property's appearance and lighten the load of summertime maintenance for your landscaping in Dacula, GA.
As your plants emerge in the spring, you have a great opportunity to perform a few landscape design and construction projects that will beautify your home and keep your investment of time during the rest of the year to a minimum. Keep reading to learn about a few things you can do in the spring months to improve your landscape.
Draft a Plan
Before the flurry of landscaping activity erupts in the late portion of the season, it's a good idea to use the slower pace of the early spring to come up with a plan for your overall landscaping design. Whether you sketch it out by hand to visualize your strategy or use landscape design software to render realistic representations of your desired result, you should get a big picture of what you want to create within your landscape and prioritize the projects before you start. For larger projects, it's wise to consult with a landscape designer who can lend professional expertise to your concept.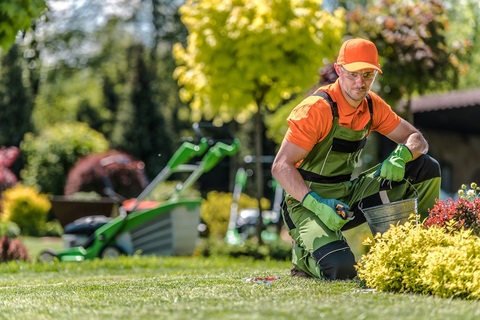 Build Beds
If planting beds are part of your concept, there's no better time than the temperate spring months to set the stage for future projects by building those beds. Digging, turning soil, and installing plants can be rigorous, and it's ill-advised to attempt those projects beneath the burning eye of the summer sun. Instead, take the springtime to create planting areas and save yourself from laboring in the summer heat. Also, since existing plantings are only beginning to emerge in the early spring, you'll get a clean slate with which to work and decrease your chances of damaging existing plantings with your bed work.
Work on Hardscaping
Hardscaping projects such as water features, paver patios, and stone walkways can lend tremendous functional beauty to your landscape. However, installing them represents backbreaking work that is best performed when the temperatures are moderate. The spring is the perfect time to incorporate hardscaping into your overall design, as the conditions will be more pleasant, and you won't intrude upon existing plantings that are only beginning to ramp up their growth in the early spring months.
Plant and Trim Your Trees
Spring also represents the best time of the year to plant and trim trees in your yard, especially those that don't bloom. When you plant a tree, there's always a period of shock that the plant endures as it adapts to its new habitat. Planting in the spring when water and sunlight are plentiful and temperatures are low can help limit the stresses that your new tree must face. While you should always wait until immediately after the bloom for species such as flowering cherries, redbuds, and dogwoods, the spring is the best time for pruning trees that don't produce flowers. That's because the sap that serves as the lifeblood of trees recedes during the winter months, especially in trees that are deciduous in nature. That means that the sap draws away from the tree's extremities and concentrates in the trunk and roots, where it's protected from the potentially damaging cold. The best time to trim trees is while the sap remains down, so use the springtime to shape your trees while promoting their overall health. It's also easier to access dead wood and suckers in the springtime before prolific foliage growth erupts in the late spring.
There are many projects in the realm of landscape maintenance and garden design in Dacula that can be performed during the spring months. In fact, spring is the optimal time for bed design and construction, hardscaping installation, and tree planting and maintenance. To learn more about ways to improve your landscape in the springtime, contact Stoeckig Landscape Group at (770) 831-1790.