If you don't make use of your home patio, you're missing out on one of the most important features of your home. A great patio can be your second living room, a peaceful place to enjoy hobbies like reading or sketching, and the perfect place to enjoy a meal with your favorite company.
But if your patio isn't up to par, it can feel like a plain and boring feature that you'll never use. In fact, many people with plain, concrete square patios never use them and just let them collect dirt. But there are easy ways to make your patio more stylish and multifunctional. If you want to enjoy a better patio, explore some of the ideas for patio design in Johns Creek below. These are the top 3 features that can make a boring patio look absolutely perfect.
Better Flooring
There's nothing inspirational or particularly attractive about a square of plain concrete. Worse, with the low quality of mass-produced homes in modern communities, many homeowners have patios with unstable, unfinished, or even crooked concrete.
Try a better alternative: a paver patio. This refers to a patio that's built from patio pavers, or small brick-like flooring tiles that are used to assemble a large walkway, patio, or porch surface. Pavers are made from durable concrete but are styled to look like real masonry, natural stones, or even ceramic tiles.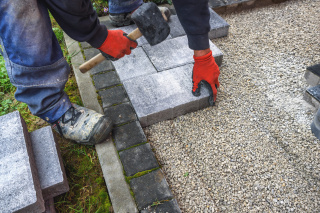 However, they're cheaper than natural stone and longer lasting than bricks or ceramic tiles. Pavers are easy to install and can even be interlocking for fast installation and maintenance. A paver patio provides the decorative but stable foundation that you need to make your patio look homier.
Practical Features
Once you've built a foundation, it's time to make your patio useful. An empty patio is like an empty room: you'll feel to need to go in there, so you never will. Patio design experts can help you decide how you'd like to make use out of your home patio. For inspiration, turn it into an outdoor kitchen and bar, set a long and weather-resistant table out there for outdoor dining, or place comfortable lounge furniture there if you just want to relax and take in your surroundings. A paver patio has the color and texture you'd expect from indoor flooring, so you can make your patio feel as comfortable and welcoming as any room inside your home would.
Eye-Catching Features
Once you've decided how to use your patio, you can install a special feature as a centerpiece. A special feature can make your patio more appealing. Like a family room without a TV, a patio without a special decorative feature may not feel as inviting. Install a firepit on an uncovered patio and you'll find yourself hanging by it year-round. Water features make patios feel peaceful and serene. Potted, decorative plants give your patio a sense of paradise and escape. Pavers are the perfect foundation for such a patio because they can tolerate weight and resist water and heat damage.
If you're ready to try sprucing up your home patio, call a local expert of patio design in Johns Creek, GA. Stoeckig Landscape Group is your go-to resource for patio materials, installation, and creative patio design. Call us today!