Hardscaping is very attractive to a lot of homeowners. While landscapes can require an awful lot of maintenance and annual or seasonal upkeeping, a hardscape design is easier to maintain over the long term. Of course, the initial design and construction of a hardscape can seem a bit overwhelming, but with professionals who know the work, it's easier than it looks. The appearance is really what wows most people, and a hardscape can be just as gorgeous and complex or simple, classic, and rustic as you like. Continue reading below for more information on top design ideas for hardscaping. There's bound to be something that appeals to you.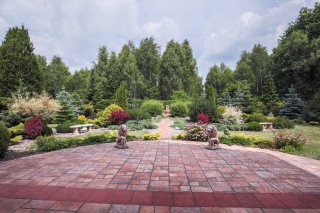 A Cozy Cottage Garden
A cottage garden design can easily be the best of both worlds. It allows enough room for flower beds or vegetable patches while also giving you enough room and comfort for benches and walkways. Whether you want to indulge your green thumb or enjoy a leisurely afternoon in the comfort of your own backyard, a cozy cottage garden can be a great and relatively simple design. Flagstones are a great option, and you can even use a reclaimed concrete bowl to capture rainwater and soothe you and your guests with the sound of the rain.
The Caribbean Resort
Of course, it doesn't have to be inspired by the Caribbean. You can borrow inspiration from Cancun or Hawaii, if you prefer. The idea here is to reconstruct your favorite resort, whether it's a place you've visited or something you've simply seen in pictures. Separate features like a pavilion and pool can break up the area into different locations, giving everyone space to enjoy. If you want to turn it up a notch, you could include a fire pit or other area for cooking outdoors. With a backyard pool, pavilion, and fire pit, you can bring all of the luxury and fun of your favorite resort to your own home.
The Oasis
An oasis-like design is a perennial favorite for hardscapes. Whether you prefer a waterfall, lagoon, series of fountains, or some sort of combination, the water will be a central feature. You can also include submerged stones or narrow walkways that navigate through the flow of the water. Don't forget to add an area to lounge so that you, your family, and your guests can get the most out of the ambiance. Plants are a great addition, whether you like to incorporate them directly into the other features or, if you prefer, to keep them on the side as accent pieces.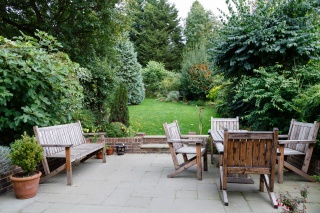 There's really no wrong way to put together a patio hardscape in Johns Creek. In the end, it comes down to creating something you can enjoy not only looking at, but embrace as a part of your day-to-day life. The more mileage you're able to get out of your hardscape, the happier you'll be.