Are you interested in upgrading to a beautiful, long-lasting backyard patio? Patio hardscape experts recommend permeable interlocking concrete pavers. These high-quality materials offer amazing features to your backyard for everyday durability, environmental benefits, and more. So why should you invest in installing these patio pavers in Roswell? Here are the features that make these pavers worth the investment.
Overview
Pavers, in general, refer to concrete-based stones that are arranged to form a wide, flat surface like an outdoor patio or garden path. They're much stronger, longer-lasting, and more resilient than a poured concrete surface. While there are stone pavers, concrete pavers are more popular. Concrete paver patios are common alternatives to bricks and natural stone tiles because they're affordable, and their many engineered styles make them versatile. Choose from a variety of colors, shapes, and themes to build the ideal home garden and patio. They're easy to install, affordable, and an overall great solution to your outdoor hardscaping needs.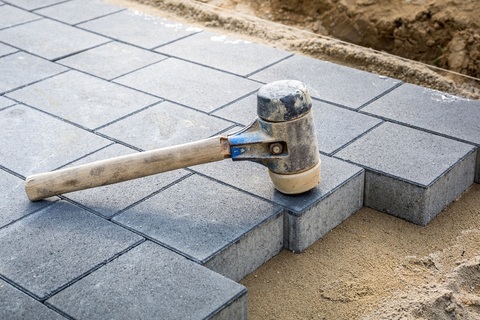 As for hardscaping, this refers to the outdoor features in your lawn and garden that aren't plants, soil, mulch, or other organic elements. Hardscapes are the hard features like retaining walls, patios, walkways, and stairs that make your property more functional. It's helpful to know this term because many landscape designers may not provide hardscaping features like permeable interlocking concrete pavers.
Development
Permeable interlocking concrete pavers are a relatively new material in the world of hardscaping. They've only been used in parts of North America and Europe or about 30 years. They're made from an aggregate like gravel or crushed stones that's mixed with cement and shaped to arrange via interlocking into a large patio surface. The resulting substance is extremely strong and resistant to natural elements. However, it's also permeable to moisture.
Permeable interlocking concrete pavers are designed to combine strength and environmental benefits. When installed, the concrete pavers are surrounded by strong, stone-filled joints that receive and filter runoff moisture while also helping to secure the paver surface for as long as possible.
Beneficial Features
The interlocking pavers are designed for easy installation of a flat, strong surface without gaps or give. Therefore, these pavers provide a strong and long-lasting alternative to other patio surfaces like masonry or poured concrete. Because they interlock, they're easy and fast to install, saving homeowners money on patio installation.
They resist freezing, salt, moisture, weight, and ice. Maintenance is as easy as sweeping and snow plowing or shoveling when necessary. And while they're unlikely to become damaged, should they happen to show flaws, repairs are as simple as slipping out any damaged pavers and interlocking some new ones in a matching style and color.
Best of all, they're environmentally friendly! Permeable surfaces filter oils, suspended solids, and other runoff to protect natural landscapes from volatile pollutants. And when you decide to replace your permeable interlocking concrete pavers surface, they can be removed, crushed, and recycled for future use.
Concrete Paver Ideas
For more ideas on how to design your patio and garden with concrete pavers, call Stoeckig Landscape Group today. We provide quality landscaping and hardscaping in Roswell, including sale and installation of permeable interlocking concrete pavers. But whatever you want to achieve in your yard, our wide range of materials and design experience means we can make your dream landscape a reality.