As you head into summer, it's common to suddenly feel dissatisfied with your outdoor space and landscape design. The weather's warmer, the sun sets later, and you'd like to spend a lot more time outside. But if your yard looks messy, overgrown, or just plain and colorless, it's not the most inviting place to enjoy sunny afternoons. That's why it's the perfect time to plan for a new garden design in Cumming. With all the landscaping options, it can be hard to know where to begin. That's why we wanted to compose this list of garden design trends of 2020 to help you create the perfect outdoor space for your property.
Gazebos or Pergolas
One garden addition that's becoming increasingly popular this year is the gazebo or pergola. These are freestanding, open structures with roofs that can be placed in various places throughout a garden or backyard. One reason why property owners love gazebos is that they create the perfect place for outdoor furniture, including dining tables or lounge chairs. Since they provide shade, it's a great way to be outdoors while still staying out of the hot sun. These structures come in many different shapes and sizes, so even if your space is small, you can find a gazebo or pergola that works for you.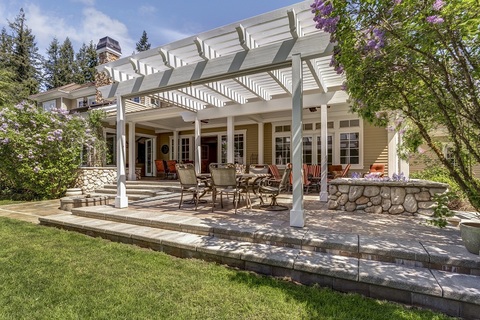 Herb Gardens
There's nothing quite like walking through your backyard with the smell of rosemary, basil, mint, or lavender filling the air! Herb gardens not only provide the house chef with fresh additions for meals, but it also looks beautiful in an outdoor space. Herb gardens can be arranged in multiple ways, such as hanging gardens, wall arrangements, or the classic wood raised boxes. The best part is that herb plants are often inexpensive and can be found at your local grocery store.
Water Features
Water features always add a touch of zen to any home! The sound of moving water creates a calming atmosphere that can be very inviting after a long day. Water features come in a variety of different forms. Whether it's a small fish pond, a bubbling fountain, or a grand waterfall, adding a water feature to your garden is a great way to beautify your space and add value to your property. Even small patios or backyards can include water features, but be sure to talk to a landscaping professional about installation.
Hedges Instead of Fencing
Privacy is one thing that most property owners wish to obtain when it comes to their outdoor space. Landscape designers have been noticing trends in homeowners turning to hedges and other greenery instead of installing fences or gates. Thick, full hedges can create just as much privacy as a wooden fence, and they also showcase a beautiful green backdrop to your yard.
Rocks or Stones
Adding drainage rocks, decorative rocks, or natural stones to gardens has also become a hit in landscape design this year. Rocks and stones can be used as borders for flower beds or accents to walkways. They can also add color and texture to a dull outdoor space. They come in a variety of colors and shapes, so you'll be able to find some form of natural stone to match your landscape design in Cumming, GA.
Think you're ready to upgrade your garden with one of these popular trends? Give Stoeckig Landscape Group a call today and talk to the landscape design experts about your next project!