Start with the Weeds
Patio pavers are not immune to weed growth. Many people use regular sand in the joints that connect the pavers. While this is an inexpensive option, it's also an option that makes the patio susceptible to weed growth. All it takes is a few weeds popping up to make your patio look weathered. The good news is there's a simple solution. It starts with getting rid of those weeds the moment they pop up.
Of course, no one wants to spend their free time pulling weeds. It's boring and it kills your back. That's why you need to tell the contractors working on your hardscape in Cumming to use polymeric sand. This sand hardens when it gets wet, which prevents weeds from growing out of control.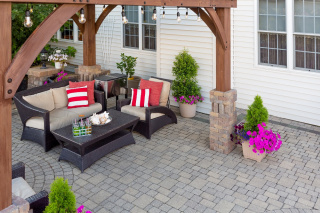 Clean the Patio
Pavers collect their fair share of mud and dirt over time. Cleaning your patio regularly not only keeps it looking new, but it also keeps the dirt from being tracked into your home. Sweep the patio and use a pressure washer to give it a really good cleaning once or twice a year. Just make sure that you don't direct the spray into the joints. Doing this disturbs the sand between the pavers and can lead to bigger problems.
Replace Broken Pavers
Although pavers are great for patio hardscapes in Cumming backyards, that doesn't mean that accidents don't happen. Over time, some of the pavers may develop cracks or break in two. If this happens, replace the pavers right away to maintain the integrity and beauty of the patio. It's always a good idea to buy extra pavers when installing your patio. That way, if you need to replace a paver years down the line, you don't have to worry about matching the material.
Seal the Pavers
Hardscaping in Cumming in particular benefits from being sealed once every 2-3 years. This protects your patio from the weather elements and also prevents dirty debris from getting into the bricks and staining the surface.
Use a sealant that's designed specifically for pavers. Ask your contractor for a recommendation or stop by your local home improvement store for suggestions. Also make sure to apply the sealant according to the direction on the product. Don't skip steps — follow the application procedure exactly. This ensures that you get the best protection from the product.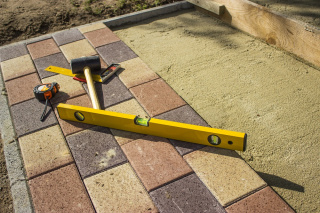 When you care for your outdoor patio, you'll get many years of enjoyment out of the product. You'll also avoid unnecessary repair or injury. Do you need hardscape ideas in Cumming? If you're not sure about the design, the materials, or what type of hardscape products you want to install in your backyard, contact the pros for expertise. Stoeckig Landscape Group is available to help you design a paver patio, stone wall, or any another hardscape design in your backyard today. Call to schedule your appointment.