Few additions to your backyard landscape can make more of an impact than hardscaping. In contrast to landscaping, which includes plantings, lawns, and trees, hardscaping includes patios, stairs, walls, statuary, and water features that add interest and beauty to your outdoor aesthetic and serve as focal points for your design. Whether hardscaping comes in the form of a classical garden fountain, paver garden path, or poolside patio hardscape in Roswell, it can be the centerpiece of your outdoor oasis and provide a structure for the plantings that surround it.
One of the most beautiful and practical forms of hardscaping comes with the addition of stairs and decorative walls. Not only can these components be stunning when constructed of natural stone, but they can also serve the practical purpose of stratifying and leveling uneven yards, creating sectioned alcoves for entertaining, or providing a backdrop for extravagant plantings. The power of wall and stairway hardscaping can be transformative for your yard while still serving a functional purpose. Read on to learn more about how to increase interest in your yard by using stone or brick stairs and walls.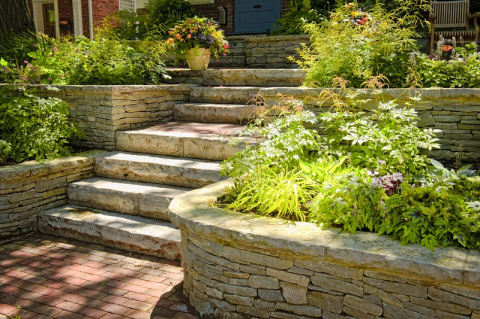 Deal with Slopes
Not every yard is flat. Look around in most neighborhoods and you'll see that houses are built on all kinds of grades with yards that can range from flat to steep hills. When your yard consists of a steep slope, lawn maintenance can be a nightmare. If the grade is high enough, you could even find yourself in a daily battle with gravity as you attempt to traverse your yard. One way to deal with steep slopes is to create tiers or terraces. Using walls, you can transform your yard from one big hill into several parcels of terraced flat land that are much easier to mow and navigate. Terraces yards also prevent erosion that can take a toll on your lawn on steep hills.
Create Sectioned Areas for Entertaining
Many homeowners spend a great deal of time outdoors, whether relaxing on their own or entertaining friends. Some install water features, hot tubs, or firepits that provide a focal point for the hardscaped area. Such areas can be magnified by using combined walls and seating that encircles a feature such as a firepit and creates visual and actual enclosure. Also, walls can be used for seating when large groups are present, making them a versatile addition to any entertaining area.
Prevent Damaging Foot Traffic
If your yard features a slope and you don't want to terrace it, there are still ways to incorporate hardscaping that can help reduce erosion and preserve the integrity of your yard. You can create a winding stairway that can provide not only a beautiful form of erosion control but will also serve the purpose of assisting you as you cross your yard. By designing a meandering stairway instead of a straight one, you can reduce the steepness of the climb and make the trip much more pleasant. It'll also make for a hardscaping feature that's pleasing to the eye.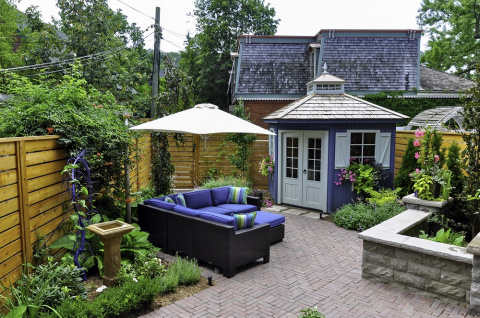 Showcase Plantings
Another great use for walls in garden hardscaping is to use them as gigantic planting boxes that keep defined edges and sharp lines of distinction in your landscape. For example, if you don't want plantings to crowd your lawn or you want to lighten your maintenance load when it comes to trimming around shrubs and bushes, you can lift plantings above the lawn by using walls. Not only does this create space and provide a more open design plan for your yard, but it also adds an element of height that can provide excellent structure. The stone, brick, or pavers used in the wall have inherent beauty on their own, but when combined with the perfect plantings, such features can take your landscape design to another level, both literally and figuratively.
If you're looking for a way to rejuvenate your landscape, consider hardscaping elements such as decorative walls and stairs to spruce up your outdoor areas and create interesting features. To learn more, contact Stoeckig Landscape Group at (770) 831-1790.