An ordinary patio is nothing to be excited about. So many homes come outfitted with plain, concrete patios that are so uninspiring that they often go unused. Many people even furnish them and then leave them unoccupied.
Large elegant water fountain with fall décor So, what can you do to make your patio worth the investment? Try giving it more elegant features, like upgrading to a concrete paver patio for an authentic stone or brick look. Then, give it a centerpiece worth visiting over and over again: an elegant fountain. Patio hardscape experts strongly recommend a visual element like a fountain for your home patio. Here are some of the top fountain styles and themes, and the benefits of adding a feature like this to your backyard.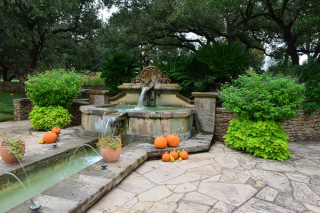 Top Styles
Some of the most common fountains include tiered and pedestal fountains. The first, a tiered style, is likely what comes to mind when you hear the word "fountain." It's an elegant and old-fashioned fountain that includes several horizontal layers, stacked vertically for a layer-cake effect. Water will flow out of the top and cascade down through each layer into the pool at the bottom. This style is great for giving your patio a quiet, comforting vibe. The trickling of water, combined with cool features like patio pavers that resemble a real stone floor, will make your patio look relaxing and comfortable.
Pedestal fountains are more simplified but still eye-catching fountain. These styles consist of a single raised platform or even bowl shape. Water flows out of the center and collects on the pedestal, then flows down in one continuous stream into the pool below. The effect may be noisier, but it gives a flashier elegance to your backyard. If you want a party spot right in your own home, or a visual effect that can stand out even next to a swimming pool or outdoor kitchen, a pedestal fountain is a true showstopper.
Size Options
Fountains don't have to be gigantic, resort-style pieces. If you have a small backyard, you can find a scaled-down fountain that fits perfectly into your backyard. In fact, no yard is too small for a fountain. Place it directly in the center of the patio, set it to one side to save outdoor living space, or even place it opposite your patio to give a small, elongated backyard an enlarged appearance. Also, the vertical shape of a fountain, especially a tiered one, can offer a small backyard more visual space.
If you happen to have a large yard and large, redundant patio, install a fountain in the center of the floor to break the monotony and actually attract more people to the fountain. Patio hardscaping companies can install a stone border around a large fountain that's bench height, so you get a large, eye-catching feature and long-lasting outdoor seating at the same time.
More Benefits
There are even more ways in which an elegant fountain can improve your patio. Fountains can block out unwanted noise outside your yard–due to traffic or loud neighbors, for instance. Also, fountains can attract pollinators, which is great for your garden. The combination of a lush garden and fountain perfects a backyard and makes it incredibly satisfying to visit. You can even raise your property values with such a unique and powerful style feature.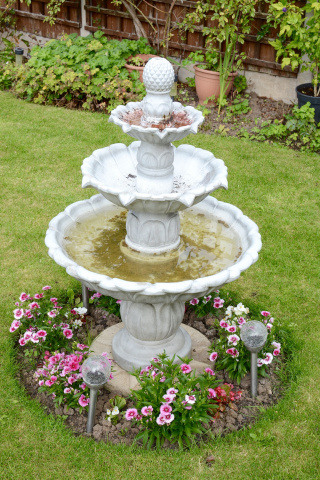 Experts of patio installation in Suwanee, like Stoeckig Landscape Group, can add dimension, style, and elegance to your patio with a stone fountain. They have the expertise to find the best style for your backyard, as well as the contractor experience to install it from start to finish. Contact Stoeckig Landscape Group at 770-831-1790 today to get started transforming your home patio.