Are you ready to have some fun in your backyard? How would you like to turn your yard into an oasis for your kids where you'll never hear them say, "I'm bored" or "There's nothing to do" again? Check out these ideas for landscape design in Cumming, GA, to get your children out of the house, off their computers, and into the sunshine and fresh air.
Open Space
Kids need room to run around and play, so keeping an area of just grass is a great idea. This also provides a space for summer fun, like running through the sprinklers or splashing in a play pool. Your kids can enjoy the water without damaging any plants or flowers.
Incorporate Shade
The summers in Georgia are hot, so be sure to incorporate shade into your landscaping design. Think about adding a hammock or a swing near a tree where your kids – or even mom and dad – can enjoy those warm days without roasting in the sun. Shade can also be accomplished by adding an awning or a pergola or using old sheets and blankets to create a teepee or clubhouse for your child.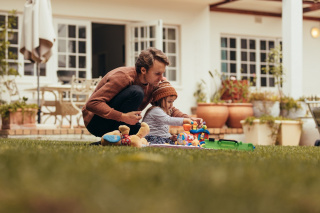 Play Areas
Incorporating play areas into your backyard design will keep your kids entertained for hours. Imagine being outside, grilling up a family meal, while your children enjoy a nearby playset or sandbox – a simple patch of sand bordered by loose, stable rock is one of the easiest ways to achieve this. If your little one loves toy cars and dump trucks, create an outdoor kids' area with its own backyard highway. Using inexpensive concrete pavers and a little white paint for the centerline, you can create a bustling highway to carry your child's imagination to new heights. Forget drawing on the sidewalk, create a cool chalkboard wall for your little ones to practice their ABCs or create their artistic masterpieces.
Secret Space
Create a secret space for your children – one they can call their own. A secret garden, treehouse, or any tucked-away hideout is a great way to inspire your child's imagination. It doesn't have to be a huge or expensive space – a cozy space between some hedges can provide your child with his or her own space to sit and daydream or just read a good book.
Children's Garden
Tending a garden with your kids is a fun way to teach them about growing things and where food comes from. Choose vegetables that are easy to grow and that your children enjoy eating or are eager to try for the first time.
Safety First
Keeping your children safe is a top priority when thinking about landscaping for your yard. Here are 3 ways to make your backyard a safer place for your children to play:
Fence: a fence with a gate and lock will prevent your children from leaving the safe confines of their own yard, while also preventing unwanted guests – both humans and animals – from coming in while your children are playing.
Non-slip surfaces: decks, walkways, and patios are often slippery when wet, but pavers and other non-slip options are available to reduce the risk of slips and falls.
Minimize flowers: avoid planting flowers known for attracting bees, being prickly, or being toxic.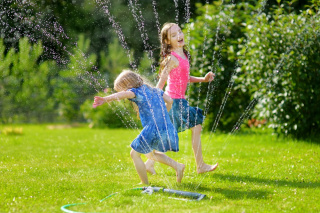 Create a perfect playground for your children in their own backyard by calling Stoeckig Landscape Group at (770) 831-1790 or visiting us at www.stoeckiglandscapegroup.com. Our landscape contractors in Cumming can bring all your landscaping ideas to life.