One of the most reliable items used for a design makeover is natural stone. Apart from adding texture and variation, landscaping with rocks needs little to no maintenance, which makes it a convenient choice. Let's take a look at the latest trends in decorative landscaping stone designs to help you decide which stone landscaping idea will be best suited to you.
Outdoor Stone Fireplace
Outdoor stone fireplaces have gained popularity in recent years and could be a smart choice for you if you reside in a cold area but find yourself wanting to spend time on the lawn. They not only enhance the aesthetic value of your house but will also provide heating for you to sit and enjoy the evening breeze with friends or family.
As compared to an indoor fireplace, outdoor stone fireplaces do not need as much maintenance and cleaning.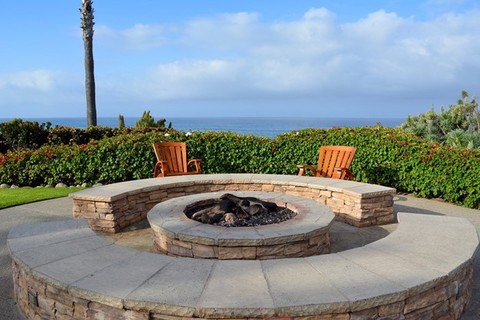 Fire Pits
If outdoor stone fireplaces are not your thing, a stone fire pit might be perfect for you. Fire pits can be fueled by either gas or wood and are used to warm up and throw light while sitting outside with family and friends. 
Stone firepits do not need much maintenance, but if it's built to run on gas then it will need protection from rain or wind so that the nozzles are protected. A stone fire pit can be the perfect place to sit and sing along with friends and family members on chilly winter afternoons.
Pondless Water Features
Water is a building block of life and water bodies usually have a calming effect on those around them. The soothing sound of running water can add to the aesthetic value of your house.
Modern water features are self-sufficient, meaning they do not require water being pumped into them all the time and that they can recycle the water in them. But the water will still need to be changed every month or so.
In dry regions, water features can also provide increased humidity and better air along with providing increased home value.
Stone Zen Garden
A Zen garden can be the perfect place in your landscape dedicated to relaxing. It can be used for yoga or to meditate. The trend for getting stone Zen gardens has been on the rise as the use of mindfulness and meditation has gained momentum in the west. These gardens provide a soothing and calming effect and enhance the beauty of the landscape. Incorporating rocks and sands and traditional Chinese plants, these stone gardens are very pleasing structures.
Unlike other stone features on the list, the stone Zen garden is going to need some looking after as the sand may spread due to wind and the plants are going to need care. But a Zen garden will have a positive impact on your life that makes it a wonderful option for many homeowners.
Some other popular stone landscaping ideas besides these are stone covered walkways, custom home stone lakes, and stone retaining wall landscape. What you want depends on your needs and taste and the layout of your landscape.