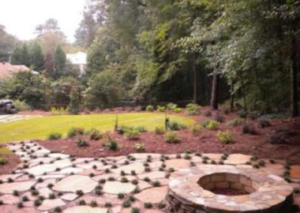 There are lots of ways to bring your yard to life using hardscaping design. Hardscape design involves incorporating more permanent features using stone, wood, or synthetic materials to complement the landscaping elements of your front or backyard. There are lots of creative and unique ideas out there that will elevate your space and make it convenient to enjoy and admire. Ready to be inspired?
Fire Features
Adding fire features to your yard is both an aesthetic and functional choice. These help you stay cozy during chilly nights and extends the amount of time you can utilize your backyard space. You can go with something smaller like a fire pit or build an outdoor fireplace. These are both unique ways to change the ambiance of your space and create a welcoming place for family and friends to gather.
Water Features
If you're considering fire, why not also think about water? Water features are also a great way to spruce up the backyard and the possibilities are endless. These can range from fountains to water gardens. The sound of trickling water is a relaxing sound and can bring an added element of calm to your space.
Outdoor Kitchens
Building an outdoor kitchen gives you a way to bring family activities outdoors. You are able to cook, dine, and entertain in this outdoor space which is much more convenient than breaking up a social gathering to go back and forth between sinks and stoves located inside. This expands your living space and brings life to your yard.
Walkways
Walkways, driveways, and sidewalks are all methods of guiding traffic around your outdoor space. This hardscaping idea gives you and visitors a safe and permanent way to move around your property. You can have it wind up a path or construct it from uniformly place, large stepping stones to create a specific look.
Covered Porches and Patios
Patios, porches, and even pergolas and gazebos will give you extra room outdoors to create a comfortable seating, entertaining, and relaxing areas. You can incorporate stone, concrete, or other materials, all of which come with a variety of different looks and textures. These hardscaping elements can break your large space up into designated spaces with their own purposes.
Low Maintenance Yards
Hardscaping design ideas can also make your yard much easier to manage. Once everything is set up and in place, there is not much needed on your end. Some people have even chosen to implement hardscape choices that reduce weed growth and cut down on yard work.
A well-designed hardscape can improve the look of your entire property and tie it all together in a way that is usable and beautiful.
Contact Us
We are experts in hardscaping design and offer insight and services with water gardens and patio design. Stoeckig Landscape Group is your partner in Dacula, GA. Learn more by contacting our office at 770-831-1790!