Whatever the size of your backyard, a patio can add something. It may be a small place where you can relax with your coffee in the morning and a book in the afternoon. Your patio can be a place where you and your family gather to enjoy meals or grilled burgers, or it could be large enough to entertain guests. Patio pavers in Alpharetta, GA, can help you get the most out of your space.
The Design
Some factors will be critical in choosing the design of your patio: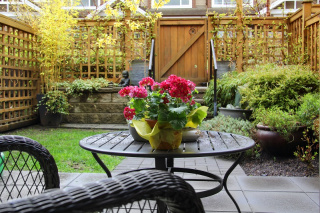 The size of your yard: You don't want the patio to swallow your yard. Even if your yard is small, you can make a place where you can enjoy some alone time. You can place a table with a couple of chairs and add flowers to the area.
The topography: If your yard is sloped, you may have to invest in stairs or a wall when installing a patio.
Budget: You need to set a budget early in the process. Determine what you want the final product to be and if you can afford it.
Purpose: Determine how you are going to use your patio. Do you want a place for your children to play? Do you need a space to enjoy meals with the family? Would you like a place with an outdoor kitchen, a pool, and plenty of space for large gatherings?
Material
You'll need to decide what material you want for your patio. You might go with concrete. Concrete is durable, and you have options about the shape. You can go with a rectangular look, a circular patio, or a more unique shape. Concrete is a good choice if the space is going to be used as a playground for your children. You can even add a basketball goal. Choose a color of concrete that complements your house.
Patio pavers add a flare to the surface. You can choose wood, stone, brick, or concrete. The shapes of the patio and path pavers can vary to suit your taste. An advantage of pavers is that if a paver is chipped, you can replace it. Brick pavers come in various colors and finishes, and the blocks can be arranged in different patterns. Wood absorbs heat better. Stone can give your patio a rustic look.
Features
Many features can be added to give you more pleasure from your patio. You'll want some flowers to brighten up the place. Add the amount of furniture you need to make your patio functional. You can find a table that seats 2, 4, 6, or 8. Fireplaces or firepits are popular features. You can sit with family and friends and enjoy the cool evenings.
Patios are often used to entertain, whether it's with friends, business associates, or neighborhood children. Make sure your patio has room for a grill for barbeques. Consider adding a built-in grill or a food preparation area for your convenience.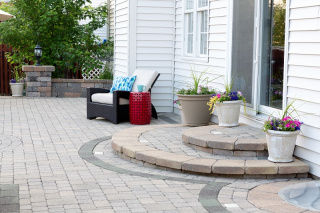 You may want to add a patio area around a pool. You'll want to make sure you have plenty of room so people sitting by the pool aren't splashed by the swimmers. You may want to have the patio large enough to accommodate pool-side parties. You can add an outdoor kitchen, and you can even enclose the area with a fence for safety.
Patios can add beauty and value to your property. Call Stoeckig Landscape Group for help with designing your patio, selecting the right material, and expert installation.