Is your home or business landscape looking a little bit dull? You can invest your time and money into caring for a green lawn, lush trees, and healthy flowers, but there may still be moments where you look around your property and get the feeling that something's missing.
There's a common element that many people forget to add to their landscapes, and that's hardscaping. Hardscaping refers to the solid, hard materials such as walking paths, patios, and retaining walls that you incorporate into your landscape design.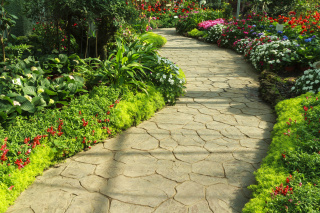 One of the best ideas to improve your hardscape in Alpharetta that professionals recommend is utilizing garden stones throughout your property. Garden stones are hard, natural or natural-looking stone surfaces that have many practical uses. Best of all, they look beautiful, and add a nice variety to what would otherwise be a bland landscape design. Read on to learn how to incorporate stylish garden stones into your landscape design.
An Alternative to Mulch
If you're not a fan of mulch—and it's easy to see why; it has a rustic texture and can be messy—garden stones are a popular alternative. Garden stones have a neat, sleek look thanks to their gorgeous stone texture. Apply them in decorative colors to match their surrounding plants, like blue to bring out the color notes in herb plants or red to bring out the sierra hues in some trees' bark. Best of all, garden stones are heavier and sturdier than mulch, so they'll offer superior protection from weeds and insects.
Walking Path
Garden stones are one of the best ways to create a subtle but stunning path through your landscape. Hardscape features such as garden stones that have a natural look, don't interfere with their natural surroundings. Rather, they emphasize the beauty of the outdoors. If you want to create walking paths between the porch and patio, build a walking trail through your garden, or connect walkways from your fence gate and garage, garden stones are a beautiful choice. Best of all, they aren't as distracting as a concrete pathway. If you add walking paths through your landscape, you might even find yourself enjoying it more often. Sure, landscaping is great to look at, but it's better enjoyed up close.
Casual Patio
If you're looking to create a casual patio—more of a gathering space than a formal space—garden stones arranged in a natural-looking shape make for a charming feature. Set deck chairs, a table, or even a bar on your garden stone patio and you'll have a stylish place to gather with friends. It can even be a comfortable place to get some fresh air alone. You can pour gravel or let ground cover plants grow between the garden stones to give your casual patio a romantic paradise look. Finish off this look with strands of decorative lights in a nearby tree.
Do you want to create a more enjoyable and beautiful landscape for less? Call a local expert to learn more about landscaping and hardscaping. Stoeckig Landscape Group does more than lawn and garden design. We also assist with hardscape design in Alpharetta so you can enjoy a more stylish and healthy-looking yard along with the hardscape features that you need to get the most out of nature. Contact us today!