When the time comes to upgrade your front or backyard, you might hear landscape design pros throw around terms that you may or may not be aware of, and that's okay! If you're not in the landscaping game, it can be easy to get lost in the lingo. One of those terms might be hardscaping. Hardscaping in Alpharetta has become incredibly popular amongst homeowners, but if you're still unsure of what it is, you've come to the right place! Below you'll find a summary explaining the main differences between landscaping and hardscaping and the key advantages of hardscaping.
Landscaping Explained
Landscaping is the general term for any work that's done to an outdoor space to make it look more attractive, cleaner, and more pristine. Building flowerbeds, installing water features, or simply cutting a lawn can be classified under landscaping. Hardscaping is actually a form of landscaping. You can think of landscaping as an umbrella term that covers things such as mowing, trimming, softscaping, and, of course, hardscaping. When speaking to a landscape design expert, they should be well-versed and educated in a variety of outdoor upkeep.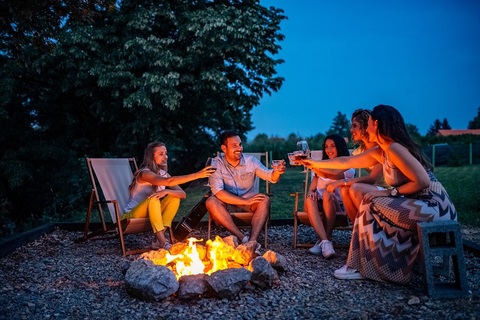 Hardscaping Explained
As mentioned above, hardscaping is a part of landscaping. Hardscaping involves any outdoor features that are nonliving, such as brick walkways, patio areas, pool decks, rock retention walls, or firepits. Basically, any structural design that doesn't include things you have to water or feed are hardscapes!
Advantages of Hardscapes
Including hardscapes into an outdoor space has a lot of advantages. First and foremost, they're easy to maintain. There's no need to ask neighbors to water your brick walkway when you're on vacation! Homeowners love the idea that once a hardscape is built, they can simply enjoy it. Speaking of watering, you can also save on water with hardscapes! While some pavers, bricks, or concrete need to be pressure cleaned every once in a while, overall, you don't have to worry about keeping any hardscapes alive.
Another advantage of hardscapes is that they add function to a property. Walkways, patios, driveways, retaining walls, or decks provide a purpose to your outdoors. Adding something like a dining patio to your backyard allows you to enjoy entertaining outdoors throughout the warmer months. One of the best reasons to include a hardscape design in your yard is the fact that it adds value to your property. Many hardscapes are easy to install and affordable, so you really get a great return on your investment when you choose to build a hardscape.
Popular Hardscape Designs
While there are endless possibilities when it comes to hardscaping, there are some key features that are currently trending. A patio built for dining tables and other outdoor furniture is a great place to start hardscaping if you don't have any hardscape features in your yard just yet. Firepits made of brick or natural stone are also a very popular hardscape for gathering neighbors and family together for those chilly nights. Pathways leading to different areas of a yard are also a must for upgraded homes.
If you think you're ready to add a beautiful hardscape to your property, contact the pros in hardscaping and landscaping in Alpharetta! Stoeckig Landscaping Group can help you make your outdoor design dream come alive. Give us a call today!