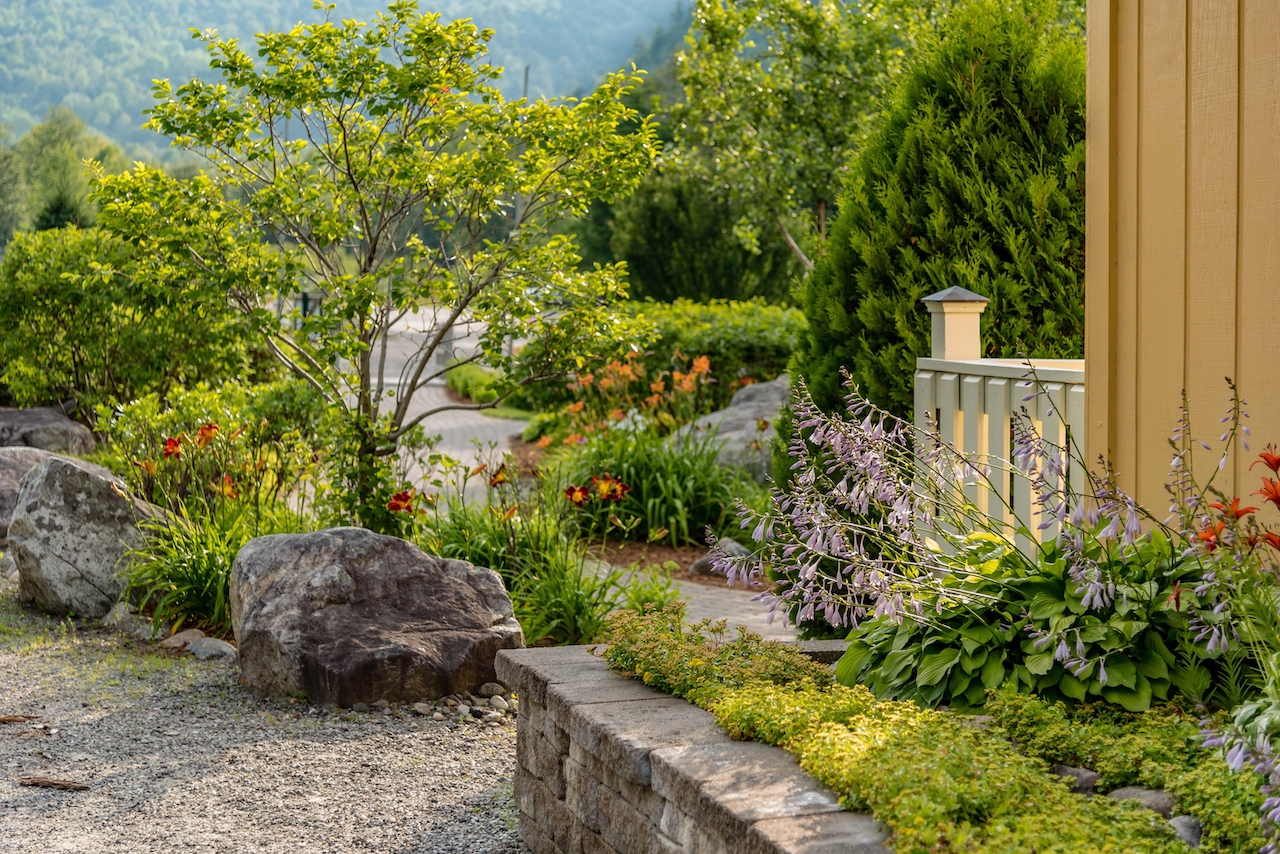 When making improvements to your home, it's important to know the distinction between different services to match your home's specific needs and vision. In this case—landscaping vs. hardscaping.
Here we will break down both of these services, and discuss their benefits and how they're different. This will help you know which specific service you need for your home upgrades.
Landscaping
Landscaping generally refers to softscape—the planting of trees, shrubs, and other living plants. This is to boost the aesthetic appeal of your yard or the outside of your home. It can also include the installation of sod, mulch, and other organic materials.
The goal of landscaping is to create an outdoor living space that is both visually appealing and functional. The purpose is to attempt to bring together the natural environment with your home in a way that is seamless, enhancing the overall look of your property.
Benefits of Landscaping
Landscaping can provide your home with more curb appeal, making it look more attractive to passersby and even potential buyers in the future. It can also increase your property value.
It can also make your yard more private with the use of trees and bushes, as well as work to block out noise pollution. This is more of a personal preference for your specific location, but it can make a big difference in how you feel about your yard.
Hardscaping
Hardscaping uses hard materials to make a space or yard more functional. This generally refers to the installation of hardscape features—such as sidewalks, patios, stairs, pavers, retaining walls, pergolas, and gazebos. Hardscape can also include the installation of irrigation and lighting systems.
The main goal is to create an outdoor living space that is functional, but it never hurts to improve your space visually and aesthetically. Hardscaping can provide your home with increased curb appeal that's unique from landscaping.
Benefits of Hardscaping
As we mentioned before, it can help increase your curb appeal and functionality of your property, which can lead to increased property value. But it can also provide additional benefits like shade, privacy, and a great area to host outdoor activities or gatherings.
The Difference Between Landscaping and Hardscaping
Many people mix up landscaping and hardscaping and sometimes use both terms interchangeably. The main difference between landscaping and hardscaping is that landscaping generally refers to plants and other items while hardscaping generally refers to the installation of hard, man-made materials such as patios and concrete walkways.
Landscaping often focuses on visual appeal, while hardscaping focuses more on functionality. However, both add visual appeal in their own way.
Both landscaping and hardscaping have a unique ability to be tailored to match your home's specific needs and your vision. The beauty of both is that they're fully customizable so you can get creative!
Hardscaping With Stoeckig
There are many benefits to both landscaping and hardscaping. After breaking down what each of these services are, their benefits, and their differences, you can make a more educated and confident decision about how to liven up your home.
Stoeckig Landscape Group designs and installs beautiful landscape and hardscape pieces to fit your specific style, vision, and situation.
Seeing that hardscaping brings many of the same benefits as landscaping as well as its own unique benefits, if you decide hardscaping is right for your specific situation, contact us today. We would love to help make your yard dreams come true.