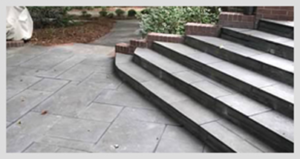 When it comes to elements of designing a home, hardscaping and landscaping come together to create a look that is cohesive, functional, and visually appealing. While both of these concepts help create the perfect space, they each bring their own distinct value to the overall feel of your outdoor space.
Hardscaping
Think of all the "hard" parts of a front yard or backyard space and they all will most likely fit under the hardscape category. These are the non-living aspects of design such as rocks, stone, bricks, etc. You don't have to think of these as individual pieces either. For example, it's not just the pebbles that line your garden that count, your entire concrete driveway or walkup is also considered hardscaping. Decks, pergolas, patios, walls, benches, and other structures are all part of a home's hardscape.
Landscaping
Landscaping covers many of the softer aspects of your home's outdoor space. Think living things when you picture landscape like grass, flowers, trees, and soil. Landscapes require design because they can be as temporary or as permanent as you'd like. You can have seasonal flowers that change each other as well as trees, shrubs, or ponds that stick around for longer. While hardscapes can also play a role in creating a relaxing space, it is really the landscape elements of greenery that breathe more life into your home's exterior design plan.
Designing Your Dream Outdoor Space
Having the proper blend of hardscape and landscape features is how you create a yard that looks aesthetically pleasing while also acting very purposefully. Hardscapes are important because they fill many functions like helping you get into your home, reserving a space for cars or outdoor dining, and improving drainage and managing spaces around your property. Landscapes create that curb appeal. Beautiful flowers, decorative shrubs, and ornamental trees all do their part in making your space look welcoming and attractive.
The perfect combination of hardscaping and landscaping should look effortless. When designing your space, keep in mind what you plan to use your outdoor space for and the maintenance that goes into it. If you love grilling and entertaining guests, this could look like a larger patio or walkway up to a dining area covered with a pergola. From there, you can build your landscape visions to complement the space from adding pots of flowers to vines that climb the structure.
Contact Us
We are experts in landscaping and hardscaping design and offer insight and services with water gardens and patio design. Stoeckig Landscape Group is your partner in Dacula, GA. Learn more by contacting our office at 770-831-1790!