There's nothing like the beauty of a freshly laid carpet of lush green turf. The lawn is a foundational element of landscaping, and its installation, care, and maintenance represent a sizable investment of time and money. However, when sod is properly installed, the lawn can be the keystone of other plantings and vegetation, as it's the canvas upon which Roswell, GA, landscape designers can create stunning designs.
While many may assume that laying sod is a task that's easy to master, that's not exactly the case. In addition to the hard labor involved in installing sod, there is also a degree of technique that experienced sod installers use to get a perfect finished product. Often, when homeowners take their turf installation into their own hands, the results are less than favorable. Considering the cost and effort of sod installation, it's important to get it right the first time. Fortunately, you can learn from the mistakes of others by observing some of the most common errors made by amateur sod installers. Keep reading to learn what you should avoid when laying sod.
Overlapping Rolls
One of the joys of a well-installed lawn is the smooth, carpet-like surface that results when the turf is put down properly. Many people think they can achieve that look by overlapping the sod to cover uneven edges that they may find on individual pieces of sod. However, that's counterproductive, as doing so will result in a lumpy, washboard-like lawn. Overlapping your sod edges should be avoided if you want the result of your installation to be a smooth surface.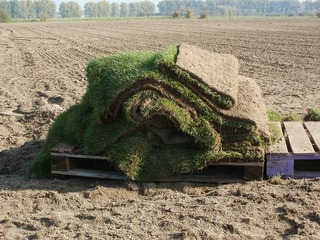 Skipping the Roll
Sitting sod on loose dirt isn't going to guarantee that the turf has its best chance of thriving. Once you've placed the sod on the prepared ground, it's important that you go the extra distance to ensure success by going over it with a lawn roller. Rolling can have a two-fold impact on your lawn's health. The lawn roller will help smooth the turf surface and iron out imperfections, and it will also make sure that your grass is given an improved opportunity to root into the prepared soil. 
Poor Soil Preparation
Before you place the first piece of sod, there's a good bit of work that needs to be performed on the soil to improve the chances of success for your turf installation. Soil preparation involves several tasks. First, it's a good idea to till the ground to loosen it. That will allow you to more easily amend it and your plants to more easily develop their root systems. Once you've turned the ground, you should remove any debris that you may have uncovered. Soil amendments are important, as you should examine the soil to determine what kind you have and what it may need to support your lawn growth. For example, if the soil has a heavy clay composition, you can add sand and organic material to make it more conducive to grass growth. Fertilizers can provide additional nutrients that propel plant growth, and substances like lime can be used to fine tune soil pH levels for the specific species of grass you want to grow. Finally, you should smooth the loose soil and make it as flat as possible before placing the sod.
Landscape contractors in Roswell, GA, know that installing turf successfully isn't difficult if you avoid a few common pitfalls. By properly preparing the soil, installing your sod, and giving your grass time to get established, you can get the look and feel of a beautiful lawn. Contact Stoeckig Landscape Group at (770) 831-1790 to learn more mistakes to avoid when installing sod.