Summer is upon us, and that means warm weather and, of course, more time outside. With stay-at-home orders finally being lifted, more people are venturing out of their homes and enjoying the summer sun. And what better way to do that than by relaxing on a brand new backyard patio? If you've been considering patio installation in Alpharetta for a while now, this is the perfect time to invest in it. Here's why.
Beauty and Functionality
In addition to providing a functional space for outdoor gatherings with friends and family, a patio also adds beauty to your backyard space. A well-designed patio provides balance in your yard by adding hardscaping elements to the landscaping elements already present.
We highly recommend using stone pavers for your patio, as these create the same functional space while adding a variety of shades, visual interest, and the opportunity to create patterns in the patio; it's a much more attractive option than plain concrete but provides the same durability and affordability.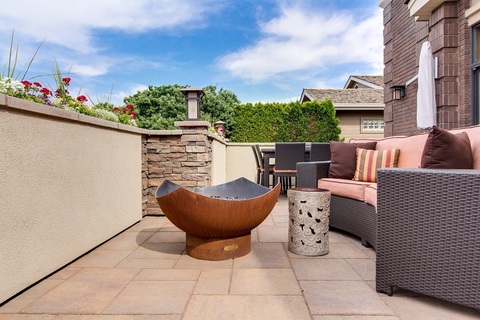 Once your patio is in place, you can use it as an outdoor dining area, grilling space, play area for your children, or simply a space to lounge and enjoy the sunshine while reading a good book. The functionality of a backyard patio is endless, and it will last for years to come, giving you ample opportunities to make memories in this new space.
Low Cost and Easy Maintenance
When it comes to home upgrades, a backyard patio can actually be one of the most affordable projects out there. Patio pavers, specifically, are extremely affordable and highly durable, which means they need very little regular maintenance. Just sweep them off from time to time and hose off any sticky spills or accumulated gunk, and your pavers will continue providing the functional, beautiful surface we mentioned earlier.
And, if something does happen to your patio and some of the pavers end up cracked, you can replace the individual pavers to repair your patio. You don't have to worry about performing a complete overhaul if any damage occurs, as you have to do with some other materials. This makes a paver patio even more affordable, as repairs are much cheaper and easier to do.
Increase Resale Value
Even though a patio is a relatively low-cost investment in your home, it can still increase the resale value of your home. About 60% of homebuyers say that a well-landscaped yard impacts their decision of whether or not to purchase a home, and a beautiful patio is a part of that. In fact, the amount you spend on installing a patio and doing other landscaping has a recovery value between 100% and 200%. That's a pretty significant ROI for such a quick and easy project!
A new patio is a great investment at any time, but especially at the start of summer, when you know you'll get ample use out of it in the coming months. Plus, with COVID-19 still a present (though diminished) threat, a patio makes a great way to spend time outside of your home, but still in a controlled environment to help keep you and your loved ones safe.
If you're interested in installing a paver patio in Alpharetta, contact the Stoeckig Landscape Group today to get a quote!