If you're looking for landscape and hardscape ideas to improve your garden design, you might think about beautiful flowering plants and shady trees. You might also hire experts in hardscape design in Cumming to install features like stone walkways and retaining walls. But don't forget about mulch! Read on to learn why mulch is so important for improving and maintaining your garden.
What Is Mulch?
Most people know what mulch looks like but don't actually know what it is. Mulch can consist of many different ingredients, each of which has its benefits. Organic mulch usually contains dried leaf and grass clippings, wood chips, and other plant matter. Inorganic mulch, meanwhile, may contain crushed stones and pebbles. It can even be made of rubber or plastic.
When many people think of mulch, they usually think of large wood chips or shreds. But no matter what it's made of, mulch is still mulch if it's designed to help protect landscapes and gardens. Both commercial and residential properties rely on mulch for a variety of benefits.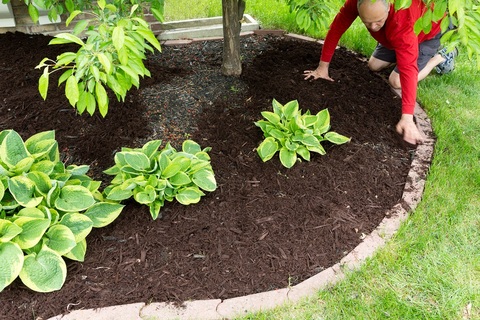 Gives Nutrients to the Soil
Most plants need four things in order to survive: sunlight, water, carbon dioxide, and soil. The purpose of the latter is to provide nutrients to plants. These nutrients are the building blocks of plant leaves, stems, branches, and other growths. So, if you want a full and healthy garden, make sure your soil is nutrient-rich. Many people think of fertilizer for enriching their soil, but mulch can do the trick too! When organic mulch breaks down or gets wet, it releases nutrients into the soil below to feed your garden.
Prevents Runoff
Mulch is like a soft barrier for your garden. It helps trap water so that it feeds directly into the soil below and also helps prevent soil from losing water or nutrients. Soil runoff can spread dirt across hardscape features like sidewalks and retaining walls. This makes your landscape look messy and poorly maintained. Mulch locks it in so that the soil stays down where it belongs, giving your yard a neat and clean look. Also, mulch blocks water vapor, so moisture will be absorbed into dry soil–which is where you want it–rather than just evaporating away.
Attract Worms
As gross as worms look, they're actually great for your garden. Attracting earthworms helps create a naturally supported, healthy environment for a garden to thrive. Luckily, organic mulch can attract earthworms and other worms, which break down the organic matter and release waste that fertilizes the soil. Essentially, they help turn dead plant matter into more healthy soil for your garden. Don't worry; they aren't so gluttonous that you have to worry about all your mulch disappearing. However, over time, a healthy worm population may encourage you to feed your garden more mulch.
There are so many other benefits to installing mulch, like adding a spruce of color to your landscape design and blocking out unwanted weeds. If you want the best for your lawn and garden, call a professional landscaping and hardscaping team, like Stoeckig Landscape Group, for mulch and other necessities for a beautiful landscape. We offer outdoor design and installation services and can even install a patio hardscape in Cumming. Call us today to learn more about how we can improve your home or business landscape.