Backyard fire pits are the perfect way to bring an outdoor space together. Fire pits can make a statement and provide a focal point in your backyard. When selecting a fire pit for your backyard, there are several choices.
Hardscaping Options
Hardscaping refers to the elements of your backyard that are not natural, including your fire pit. When designing your perfect yard and looking for backyard fire pit ideas, you'll have many available hardscaping options. Most of the fire pits that you will see fall into one of four hardscaping categories, which we will discuss in the following sections.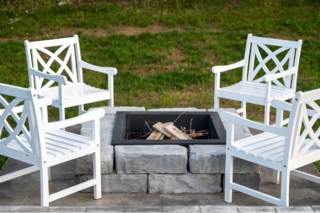 In-Ground Fire Pits
In-ground fire pits are a great low-cost option and are one of the best DIY fire pit ideas. You can easily make this type of fire pit yourself in your backyard or call a professional for help. To make an in-ground fire pit, you simply need to dig a hole and line it with a retaining wall made of stone. This hole will help keep your fire hot and contained. You can then create a seating area around the pit.
This type of fire pit is popular because it is low-cost, and you can make it yourself. If you want to build a fire pit yourself, then consider this option. Some people don't like in-ground fire pits because they are permanent.
Portable Fire Pits
Portable fire pits are another low-cost option. You can buy one from a hardware store or online shop. They are usually made of metal, and you can move them easily. This material is an excellent option for someone who wants to have an outdoor fire but doesn't want to commit to an expensive or permanent option yet.
These are wood-burning fire pits, so remember that you must have firewood on hand when you want to use your portable fire pit.
Fire Pit Tables
Fire pit tables have been growing in popularity in the last few years. Propane or natural gas usually fuels them, so there is no need to have any wood on hand to use this table. You can simply sit around the table and turn it on. Then you will have immediate heat from the table.
Fire pit tables come in many shapes and sizes, and they are easily customizable to fit your style. Fire pit tables are, however, more expensive than other fire pit options.
Stone Fire Pits
Lastly, stone fire pits are permanent fire pits that require professionals to design and construct them. These fire pits are essentially large stone rings that contain above-ground fires. You can easily customize your stone fire pit to match your backyard style.
These are great options for backyard fire pits, though you can't move them once installed.
Create Your Custom Backyard Fire Pit Today
Do you want a beautiful gathering space in your backyard? Consider customizing a backyard fire pit with Stoeckig Landscape Group. Our professional designers will create the quality fire pit of your dreams or can help you with any other hardscaping needs. Call us today at (770) 831-1790 or contact us here.