Georgia provides the ideal climate for outdoor living all year round. From the mild winters to the hot, steamy summers, southerners love the sun. But, sometimes you just want to sit outside enjoying a cup of coffee without working on your tan or getting wet in the rain. The experts at Stoeckig Landscape Group have put together the best options for patio design in Johns Creek.
Sun Shades and Sails
Also called shade sails, sun sails or yard sails, these fun, colorful canvas shades come in many shapes and sizes, and evoke the feel of sailing ships. Because they're made from fade-resistant fabrics, they're ideally suited for bright, tropical colors. Feel like you're on vacation in the Bahamas… while never leaving home!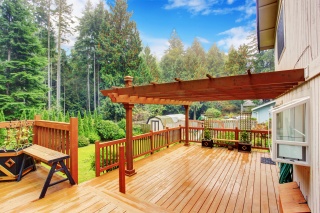 They can be attached to the house, trees, or specially located posts. Some are even movable. Adjust their position to follow the sun's path to stay cool no matter what time of day.
The ready-made versions are the least expensive option for patio cover designs, appealing to homeowners who want to enjoy their backyard on a budget. Custom sizes are also available for odd spaces, or unique designs.
Awnings
Retractable awnings are a compromise between the cost of a patio umbrella and a true building extension like a pergola. They are attached to the home, typically extend 6'-12' over the patio, and can be retracted when not in use. After all, outdoor living in Georgia means the ability to use your patio any time of year… and any time of day. Sometimes, it's nice to sit outside in the evening and watch the stars, much easier to do without a roof overhead!
Homeowners love the vast color options available to coordinate with any home design, or enhance the vision of a landscape designer. 
Arbors
Smaller than a pergola, but similar in construction, arbors are the perfect showcase for the lush greenery and fragrant flowers abundant in Georgia gardens. Once established, jasmine or wisteria vines weave through a wood or weather-resistant composite lattice to provide natural shade.
Arbors can be attached to a structure, or free-standing. They often include a bench or swing just large enough for one or two people to enjoy a conversation or a lazy afternoon.
Pergolas
Typically constructed of wood with enclosed or slatted roofs, pergolas can add a whole extra room to your home. Or, they can be just wide enough to cover a walkway.
Either way, pergolas are popular additions for people who love outdoor living and entertaining. They offer opportunities to add plants and greenery to a garden, provide some protection from the elements, and increase curb appeal.
Bonus! Adding a pergola can increase the resale value of your home by effectively adding another living space for everyone to enjoy.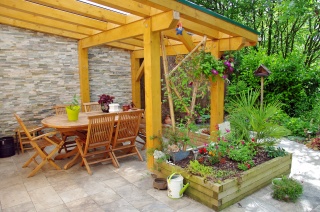 Sunrooms
Characterized by glass walls and ceilings, sunrooms allow maximum light and weather protection, while being a true extension to your home's interior living space. Indulge your green thumb with indoor plants, or curl up with a good book on a sunny day or during a summer storm.