The outdoor area surrounding your home is just as important as the interior. Creating an outdoor living space, whether you envision a small, comfortable space for family members, or a larger space suitable for entertaining, starts with the right patio design.
If you envision a spruce-up of your backyard space, or you want a totally new patio installation for your Cumming home, consider the cost of the renovation as an investment in its value. A landscape designer will help you create a unique design that not only meets your expectations, but accentuates your property and increases its visual appeal. If you prefer to do the work yourself, some landscape designers will create a patio design, then provide the homeowner with instructions to complete the project themselves.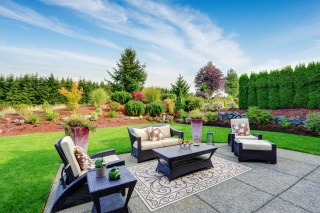 The top patio design trends are simple, yet bold, and focus on natural elements with splashes of bold color that complement the naturally lush Georgia landscape. There are two basic areas that designers focus on when creating a patio design: the desired shape of the patio surface and the materials used to create the patio.
Trending Patio Shapes
There are basically three shapes used for patio design: square, round, or a free-form design. Consider the location of your patio, and how you intend to use the space. A landscape design expert is experienced in creating unique designs that flow with the shape of your yard, and compliment your home's architecture. Some patio shapes can actually detract from the space instead of elevating it, so it is an important consideration.
Square or rectangular-shaped patios are excellent choices for large spaces. They create a more formal appearance, and enhance contemporary home designs. Consider changing up the surface color by installing more than one type of paving material to add interest to large surface spaces. Choose from a wide variety of available patio pavers in Cumming that will enhance the surrounding landscape.
Round patios are either full circles or half-circle designs, especially if you are considering a focal point, such as a fire pit and sitting area. Homeowners are drawn to this shape because there are no hard edges, no sharp angles, and the shape blends easily with the landscape. Both brick and pavers are excellent surface choices for round patios.
Free-form patios have no set shape, and offer curves and angles that can be unique to your space. Many homeowners like the originality of free-form patios because they accentuate the natural flow and shape of their home's landscape.
Trending Patio Materials
An experienced patio designer in Cumming, GA, is knowledgeable about the elements that occur naturally across the state. Georgia's geography offers a wide array of rocks and minerals. There is a rich history of landscape appreciation and a love of gardens. The trends for patio materials include incorporating these natural elements and colors into the construction of the patio surface.
Concrete doesn't have to be a boring, flat gray slab. Consider stamped designs, or coloring agents to enhance the surface. It is generally the least expensive option, and holds up well in the Georgia climate.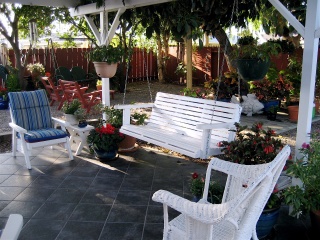 Natural stone is quarried. Installation also requires laying down each piece, and matching thicknesses to create a flat surface. Homeowners love the color options, from soft browns to amber or blue tones.
Brick works well in the local climate. However, it is porous, absorbs moisture, and encourages vegetative growth, like moss, which can be slippery in wet weather. Brick is available in an assortment of textures and colors.
Pavers come in a range of shapes, styles, colors, and textures, and are a popular choice for landscape designers and homeowners alike. They are modular and easy to install, which makes them a perfect choice for the avid do-it-yourselfer.
For professional patio design in Cumming, it is worth the investment to consult an expert. Call and speak with one of our experienced, creative designers today.