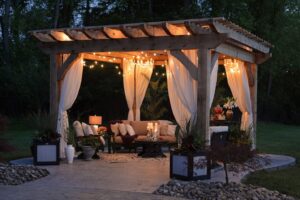 Landscaping trends are leaning towards stone as the way to go when it comes to transforming backyard basis into environments people can enjoy. While grasses, vines, and other plants make beautiful backyards, they require work each year to upkeep and can cause you to spend more time working in your yard than enjoying it. Stone is the way to go because of all the benefits it comes with.
Great for Weathering Elements
Stone stands up against weather better than most other landscaping designs. This means you aren't going to have to worry about wilting in the summer heat or fallen branches, petals, or leaves if it gets too stormy and windy out. Your backyard will look just as beautiful no matter what Mother Nature throws at it.
Versatile Design
Stone comes in so many different shapes and colors and lots of landscaping companies will customize your yard design based on what you like. Large stones not only break up your yard to create visual interest, but they can also be used as centerpieces or lining to add curb appeal. The variety that stone comes in will allow you to incorporate it easily to your home's design.
Excellent Drainage
Stone creates a natural drainage system which is useful in cases of heavy storms and consistent rain. Everyone is familiar with and gets frustrated when water pools into puddles at various points in the yard. Those who live at the bottom of hills understand this nuisance even more. Stone can help protect your property from water damage by controlling the erosion in your backyard.
Low Maintenance
Stone is a lot easier to take care of than a lawn. You don't have to mow, water or use fertilizer. In fact, it is so much easier that it is practically maintenance-free. It also makes your backyard easier to take care of also because it is a natural weed deterrent. The best part is that it will look aesthetically pleasing no matter the season or the weather.
Easy Install
Traditional garden spaces require a lot more planning and preparation before you're able to achieve your ideal look especially if you are also planting juvenile plants that need time to grow. Stone is much quicker compared to this. Excavating, pouring, and placing can take place in the span of a few days or weeks depending on your design dreams. That means you are that much closer to enjoying and relaxing in your backyard oasis.
Contact Us
Stoeckig Landscape Group is your lawn partner in Dacula, GA. Learn more by contacting our office at 770-831-1790!