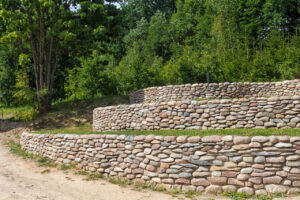 If you're looking for ways to improve your yard, a retaining wall could be the option for you. Retaining walls can be made from a variety of materials, such as stone, brick, or concrete, and can be designed to fit any budget. They're called retaining walls due to their primary purpose: to keep soil in place, which is a lifesaver if you live in an area with a lot of rainfall or have uneven terrain.
Most commonly, retaining walls are used on properties where there's a slope. By building a retaining wall, you can create level areas in your yard that would otherwise be unusable – this can include your back yard, side yard, and front yard.
In addition to being aesthetically pleasing, these landscaping features offer many benefits that retaining wall contractors can implement. Let's talk about them.
1. Balancing Out Your Yard
If you have a yard with a slope, you know the headache of constantly having to mow around it or deal with water run-off. By installing a retaining wall, you can essentially "balance out" your yard and make it easier to maintain.
This means that unused, awkward area you've been racking your brain trying to figure out what to do with can now serve a purpose.
2. Providing Privacy
If you're tired of your neighbors constantly being able to see what you're up to in your yard, a retaining wall can fix that for you. By adding height to your landscape with this solution, a retaining wall contractor can help you achieve the privacy you desire.
This is possible because a retaining wall can be built to any height. Just make sure that the height of the wall doesn't exceed the allowable height for your property, as this could result in a fine – not to worry, a professional retaining wall contractor will be able to advise you on this.
3. Aesthetically Pleasing
A well-designed retaining wall can add a lot of visual interest to your yard. By incorporating different materials and colors, you can create a unique look that will complement your home's exterior and boost that beautiful curb appeal.
Here are a few options for materials that can be used to build a retaining wall:
If there are any other materials that you're interested in using, just let your team of retaining wall contractors know and they will be able to advise you on whether or not it's possible.
4. Help With Water Run-Off
If your property is prone to flooding or water run-off, installing a wall will generally help to mitigate these problems. By redirecting water flow, a retaining wall can help to prevent erosion and damage to the soil in your yard, which can save you money in the long run.
5. Create Usable Space
A retaining wall can also be used to create additional usable space in your yard. If you have a sloped property, building a retaining wall can create a level area that can be used for gardening, entertaining, or simply relaxing.
Your dream space awaits, what will you do with it?
6. Easy to Maintain
Once a retaining wall is built, it's relatively easy to maintain. Depending on the materials used, you may need to seal or waterproof the retaining wall periodically to protect it from the elements.
Maintaining it includes protecting it from daily wear and tear, from things like:
Sun damage

Water damage from sprinklers or

planters

Walking or playing on it
Stoeckig Landscape Can Help
If you're interested in adding a retaining wall to your property, Stoeckig Landscape Group can help. We specialize in designing and installing custom retaining walls that will complement your home and yard. You can rest assured that your retaining wall will be built to last.
Contact our retaining wall contractors today to get started on your retaining wall project!